Here it is! The second look of my 3 part series, "1 Dress 3 Ways." I call this look "Dressy Casual" because it is casual enough to wear during the day or dressy enough to wear at night.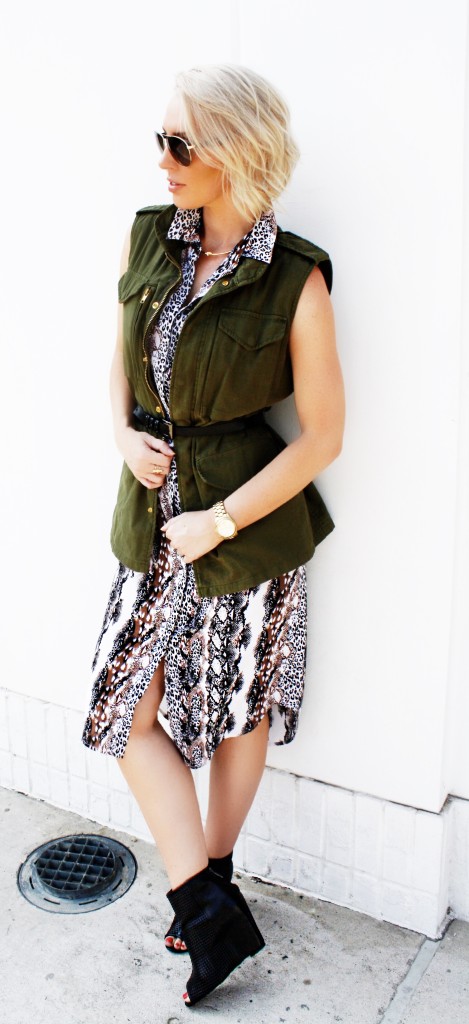 In case you missed the first post of this series, the dress I'm wearing is by Equipment and is currently 40% 0ff. The fabric is 100% silk so it's perfect for this Summer heat, and you can take it into Fall by adding additional layers.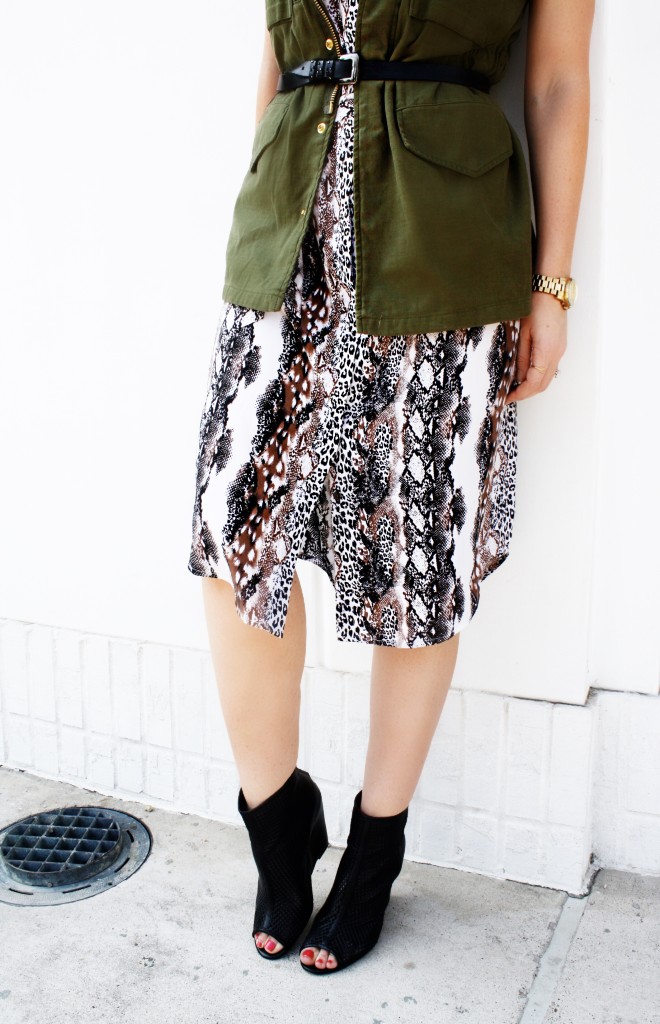 The vest I'm wearing is from Zara, and unfortunately is no longer available. I found a similar one by Lucky Brand available at Nordstrom. I definitely recommend investing in a military style vest. Army green is the new khaki, and is a neutral that goes with most everything. You can pair this vest with shorts to add some structure, with a dress to make it more casual, or with jeans to look a bit more edgy. I love how Elly Brown from "Uptown with Elly Brown" styled her vest.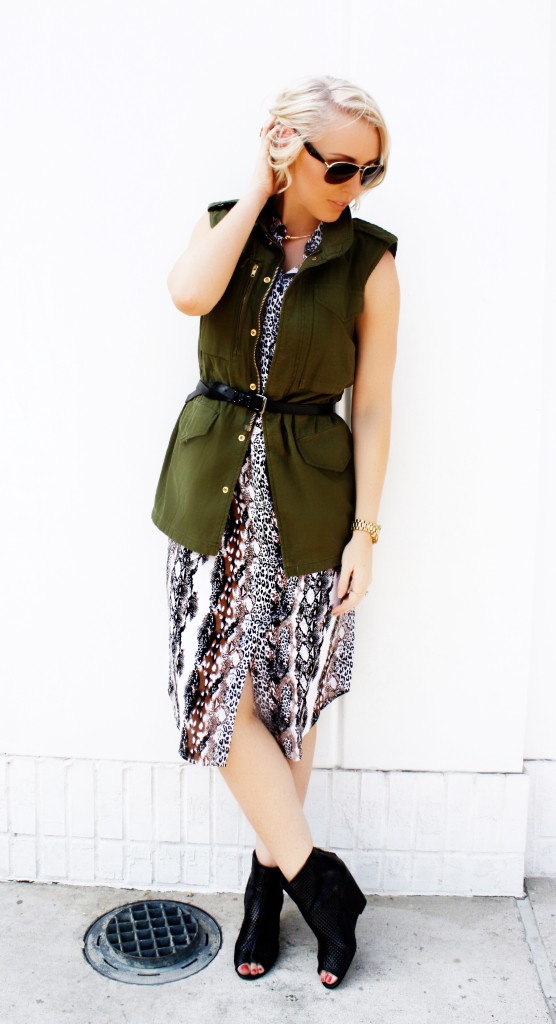 I added a skinny black belt to this look so that it would bring in my waistline and create more of an hour class shape. I also like how the black breaks up the green and plays into my shoes. If you prefer not to belt the outside of the vest, you can leave the vest open and just belt the dress.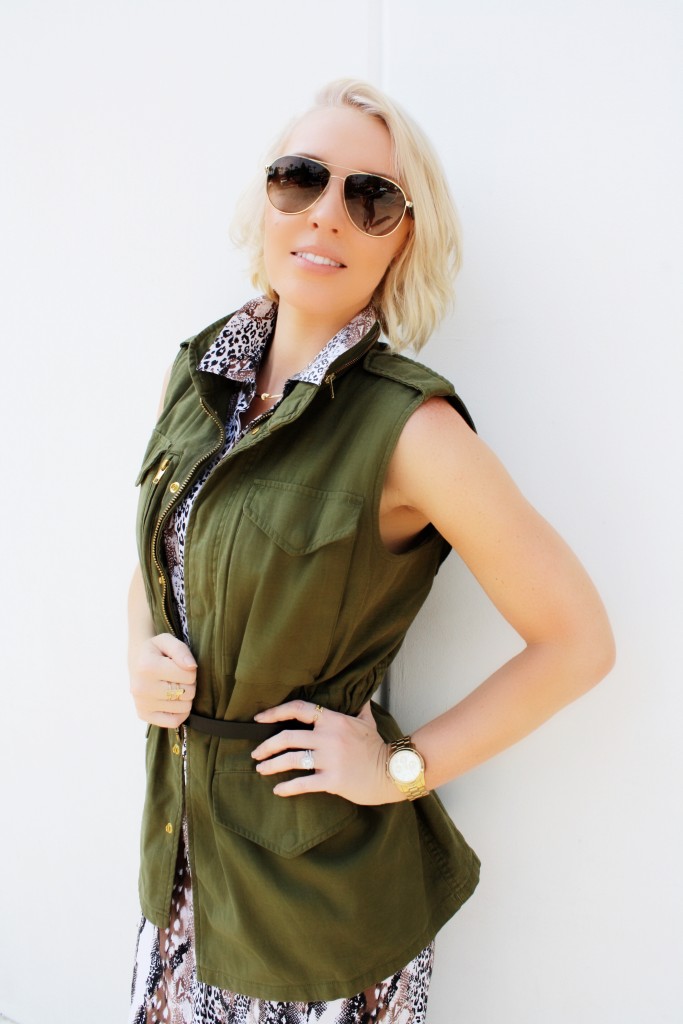 I kept my accessories fairly simple since I have a lot going on otherwise. I have definitely gotten my money's worth when it comes to this gold Michael Kors watch. It goes with everything, and I wear it everytime I wear gold accessories. My sunglasses are aviator style by Prada.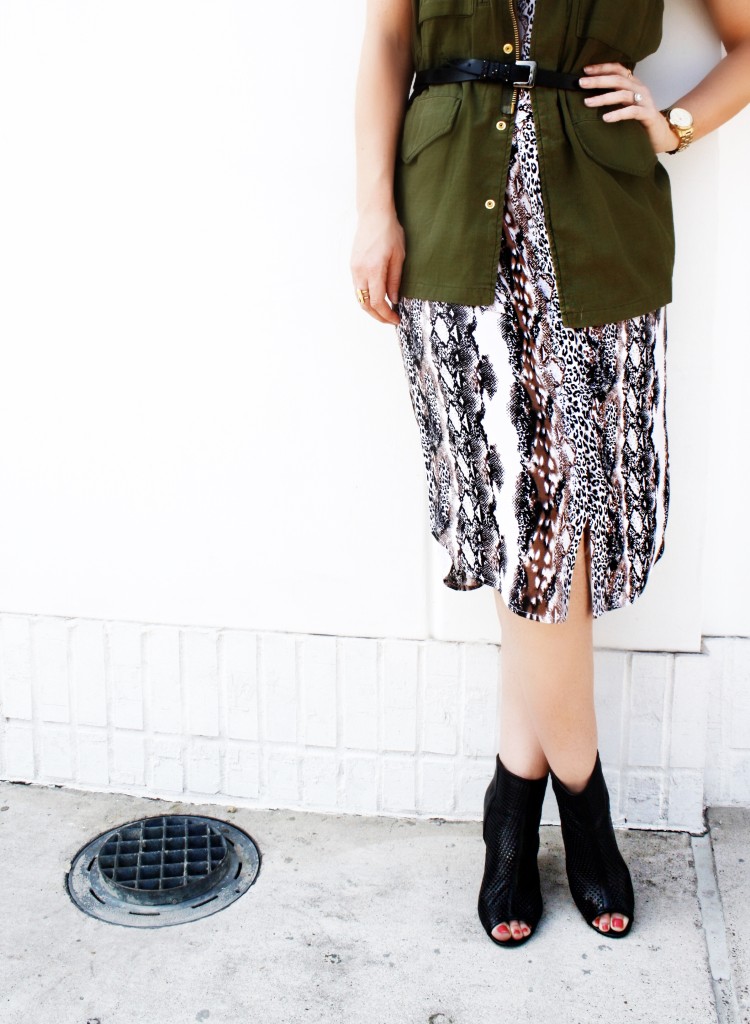 I am obsessed with ankle boots for Fall. I recently posted my Fall favorites, and included a similar pair to the ones I'm wearing. I love that these booties have a peep toe because it makes them more appropriate for our warm Fall weather. Another detail I enjoy about these boots is the perforated leather because it gives them more of an edgy look.
I hope you enjoyed this second look as much as the first. I can't wait to show you the third look next week!
XO-Natalie
Disclosure–This post contains affiliate links. Purchasing through them will help support this blog.
Photography by Linh Nguyen