Happy Friday!!! Finally, a new post! Sorry for the lag in blogging! To say I've been busy has been quite the understatement. And, I cannot believe it's already MAY?!?!? I'm super excited to share today's looks with you- yes, plural because there are three in one post!
Some of you may already know, but I have partnered with an amazing new company called Peach. Peach is an innovative brand revolutionizing the lingerie and basics apparel industry! From beautiful custom-fit bras based on a patented 10-point measuring system to panties, luxurious loungewear, shapewear, and other specialty products that we all want and need yet rarely prioritize.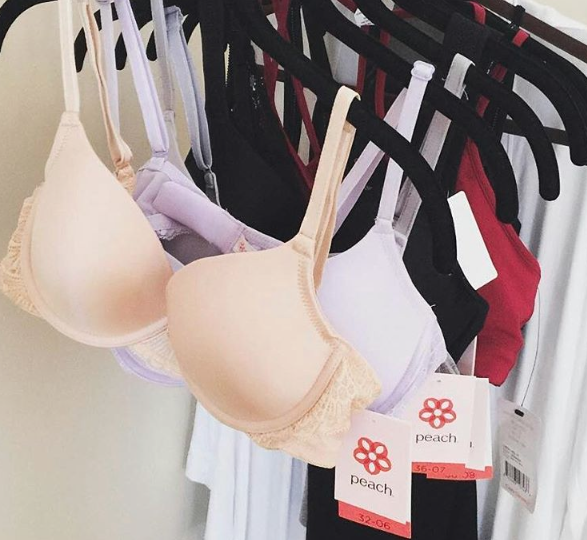 One of my favorite loungewear pieces from the Peach line is called the Modern Boho pant. It is the perfect pant to transition from lounging at home to running errands, and also from day to night. I'm going to show you three different ways to wear this super soft and comfortable yet incredibly chic pant!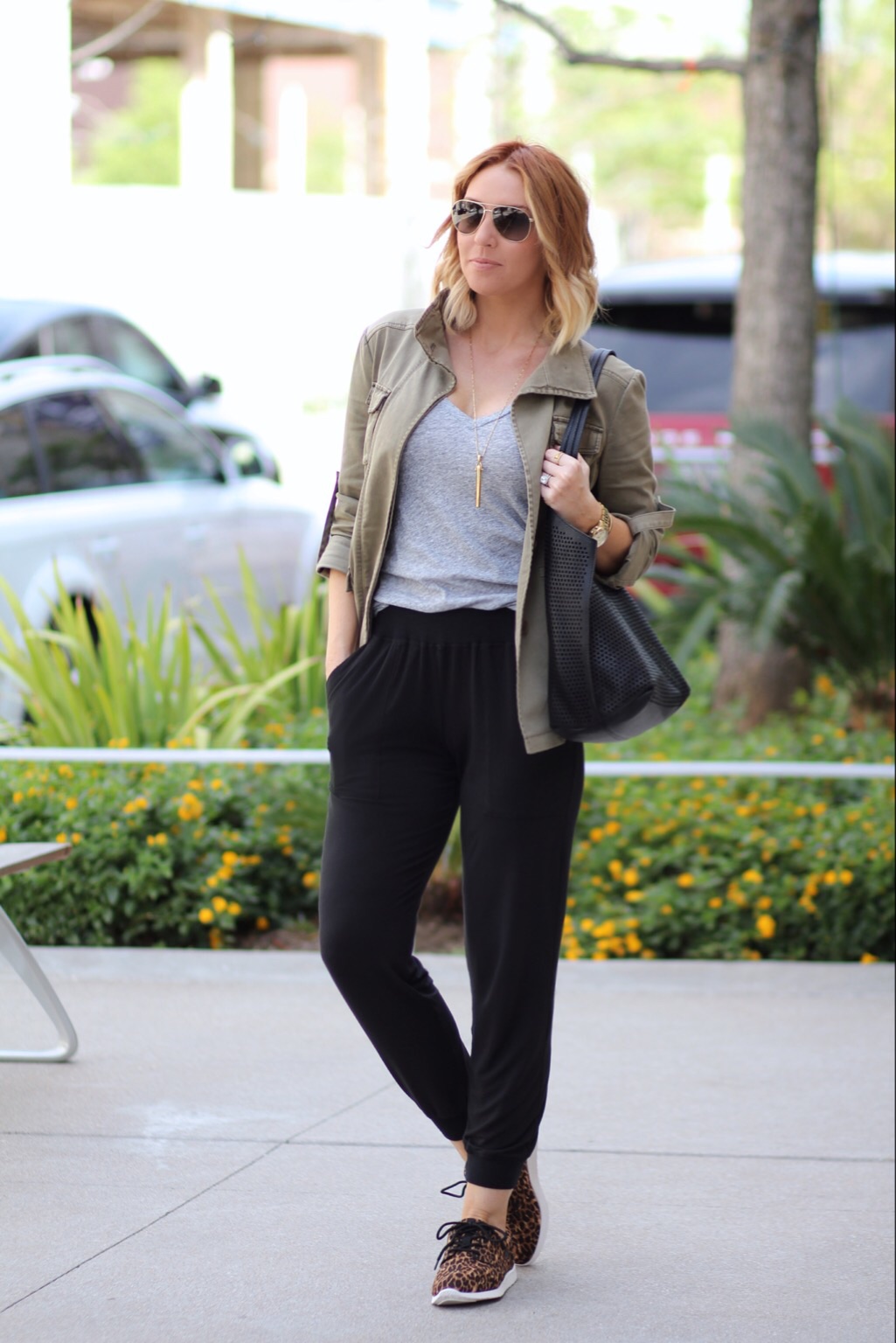 Look #1: CASUAL
When you break it down, I'm basically wearing sweatpants and a t-shirt (my favorite v-neck from J. Crew). Layers and accessories are the key to making a super casual outfit look more put together. In Houston, we struggle all Summer long with hot outdoor temps to cold indoor temps. The key to making this transition is definitely layering.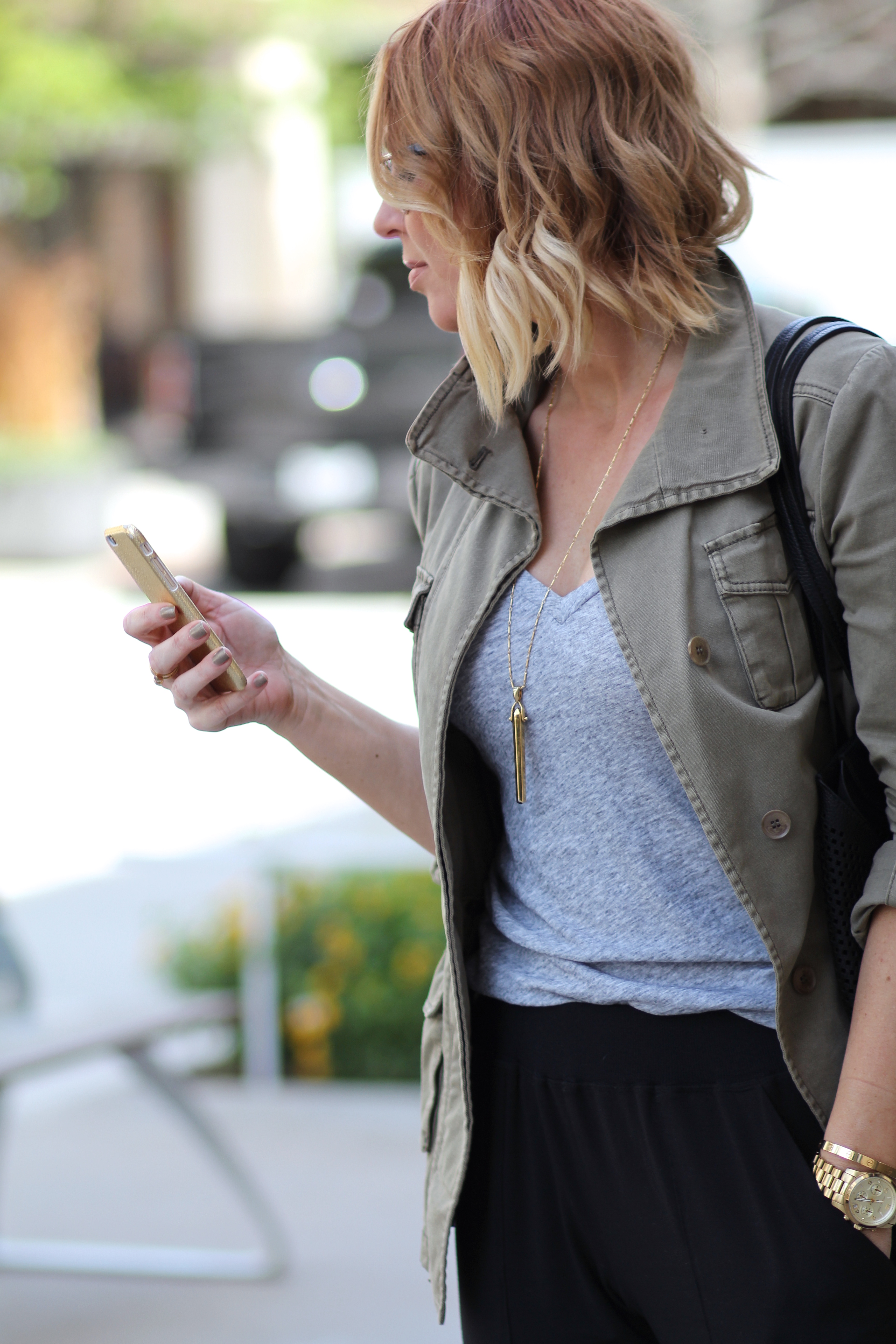 I love a good army green jacket. It is such an easy way to add structure and interest to a casual dress or pants. I got mine at BCBG a few years ago, but I also really love this one by Levi's from Nordstrom. Make sure to choose one with a drawstring at the waist. This helps create a more feminine silhouette for an otherwise masculine jacket. Can't fathom wearing a jacket with sleeves in this heat? No worries! You can switch out a jacket for a vest and get the same effect!
As much as I have been loving the sneaker trend, I have to say I'm not a sneaker girl. UNTIL, I found these leopard print sneakers by Gianni Binni at Dillard's and fell in love. I thought they were more fun and less athletic looking. I only want to wear athletic shoes when I'm working out. Like I said, I've loved that look on other people, but every trend just doesn't work for every person.
I'm loving this perforated vegan leather tote. I have been on the hunt for another black tote because mine is falling apart, and I wanted something a bit more edgy. Even though it's sheer, I love that this one has a built-in pouch so it's easy to find things when I need them.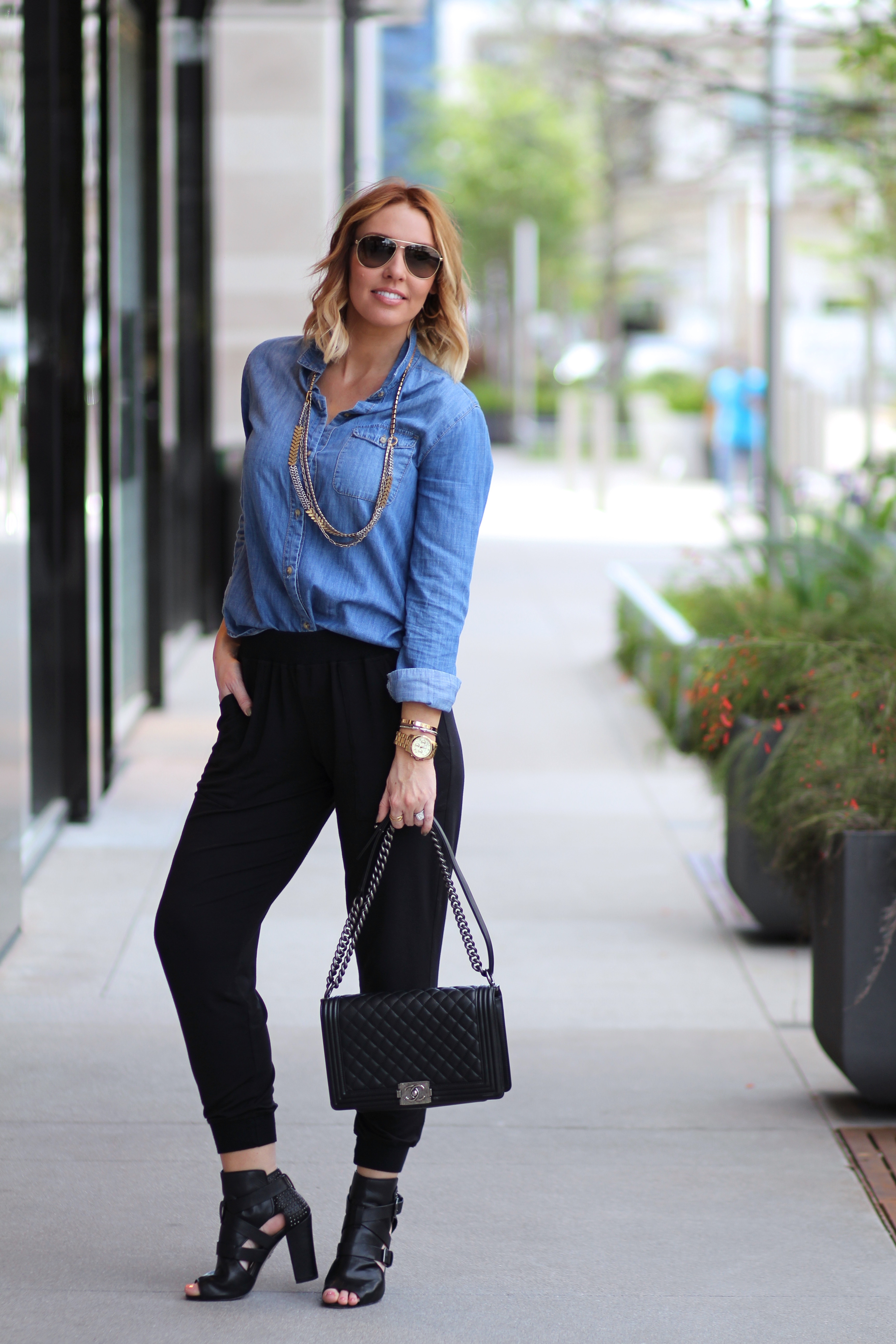 Look #2: DRESSY CASUAL
I would say my favorite style of dress is dressy casual. Still comfortable and casual yet it looks like you put effort into what you're wearing. I would wear this outfit on a lunch date with girlfriends or for a movie date with my hubby.
A chambray shirt is definitely a wardrobe staple. You can wear this type of shirt to dress down a skirt, to dress up a pair of casual pants, or as a layering piece in the winter.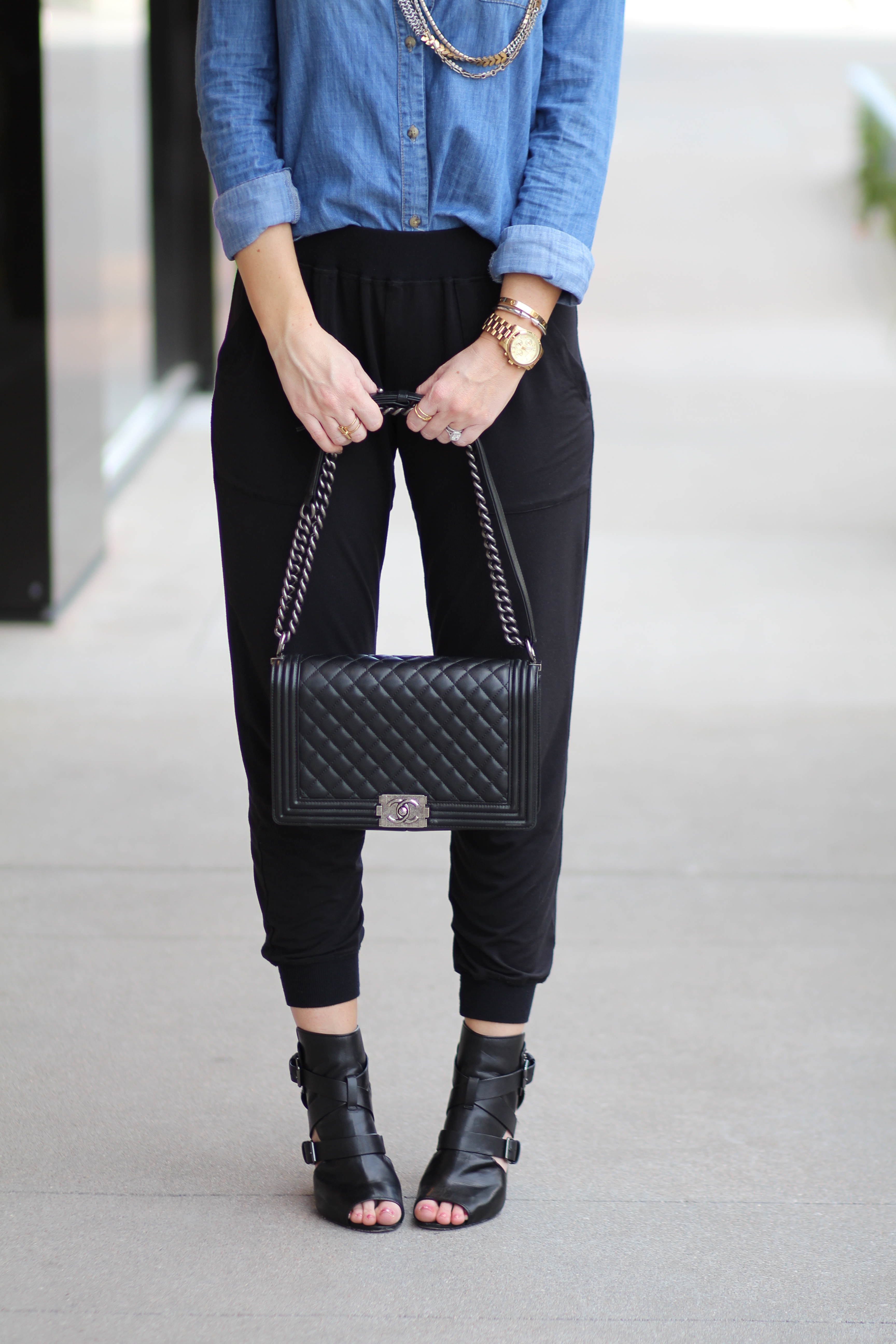 If I had worn my chambray shirt and boho pants with a flat sandal, my outfit would still pretty casual. To take it up a notch with dressy casual, I paired it with some fun heels and accessories. I've had my shoes for a while but I found a similar pair by Vince Camuto at Dillard's.
I love mixing gold and silver accessories, and this "Utopia" necklace by Stella and Dot does the trick. It may seem a bit pricey, but it does break down into 6 different necklaces so it's definitely worth the investment. If you're looking for a more price conscious option, I found a similar style by Nicole by Nicole Miller at JC Penney.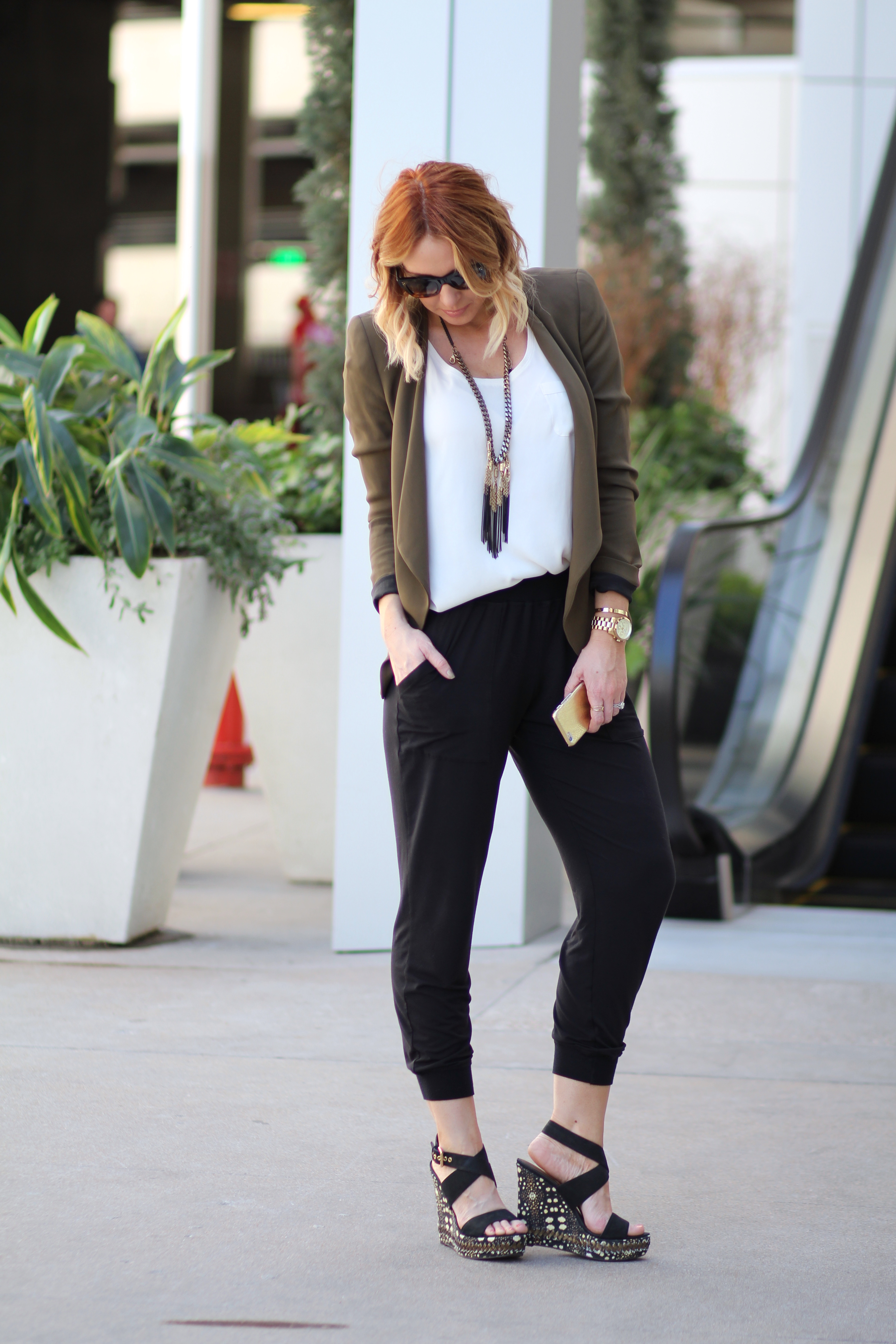 Look 3: DRESSY
I have to say, of all three looks this one is definitely my favorite. I love how easily you can dress up a casual micro-modal (super soft cotton) pant by adding a cute wedge or heel, a blazer, and a statement necklace.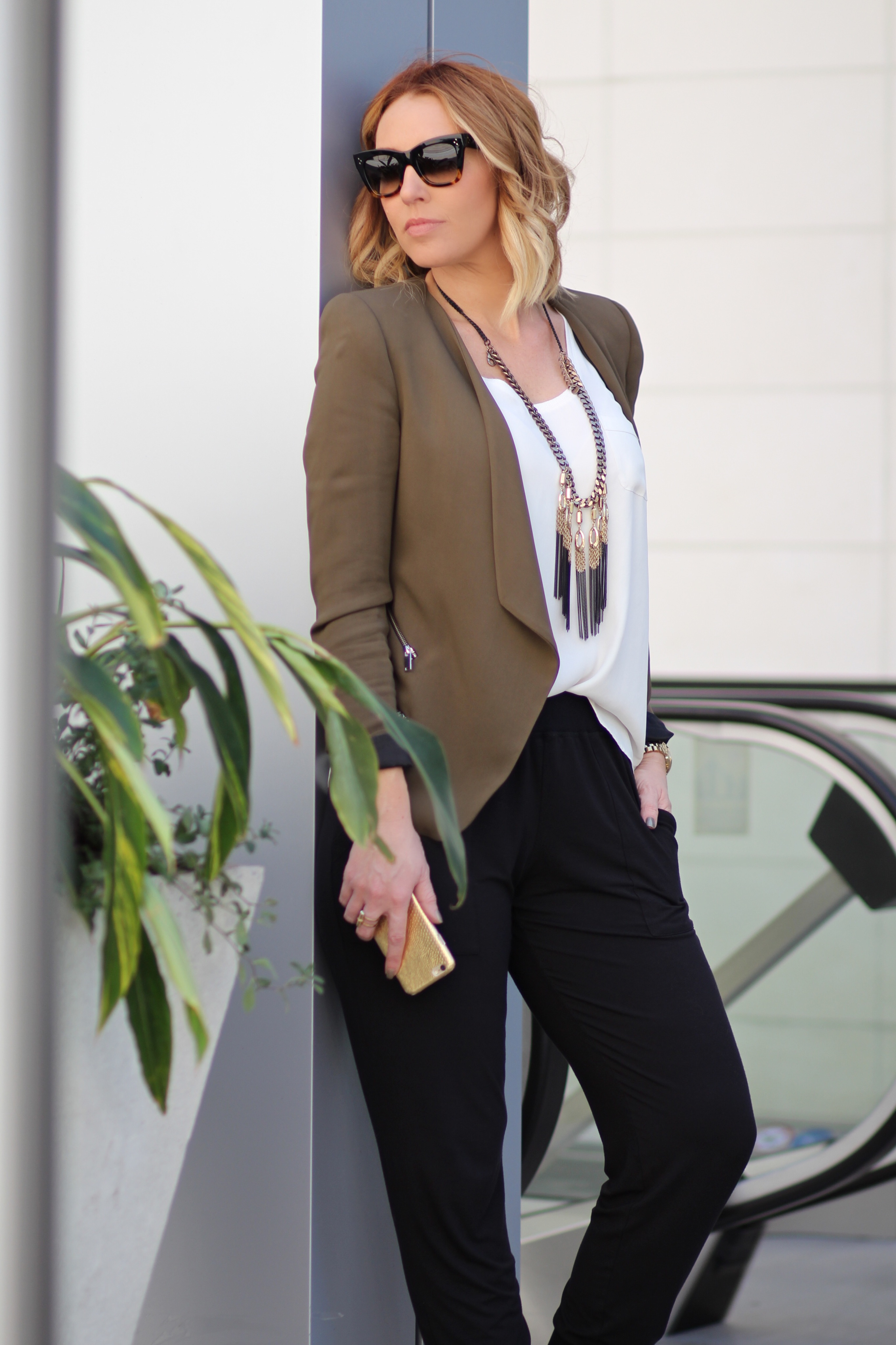 These basic layering pieces from Ann Taylor are my Summer go-to's. They come in a variety of colors and are easy to dress up or dress down. My blazer is from Zara a few seasons ago, but I found a similar white blazer from Revolve here. My wedges are really what bring this outfit together. Shoes can be an accessory too! I found these on super sale at Nine West a few years ago, but I'm also loving these snakeskin wedges for under $50!
So if by the end of this post you haven't figured it out yet….you NEED these pants! 🙂 You can click this link to purchase or email me at natkingcouture@gmail.com, and we can set up your complimentary bra fitting while we're at it!

Disclosure–This post contains affiliate links. Purchasing through them will help support this blog.
Photography by Lilly Beltran