Happy Friday!! So excited to finally have a new post for you guys! Today's post "Flower Child" is a modern throwback to the 70's. It's all about 2 of Summer's Hottest Trends: 1) Off the Shoulder Tops 2) Flared Jeans.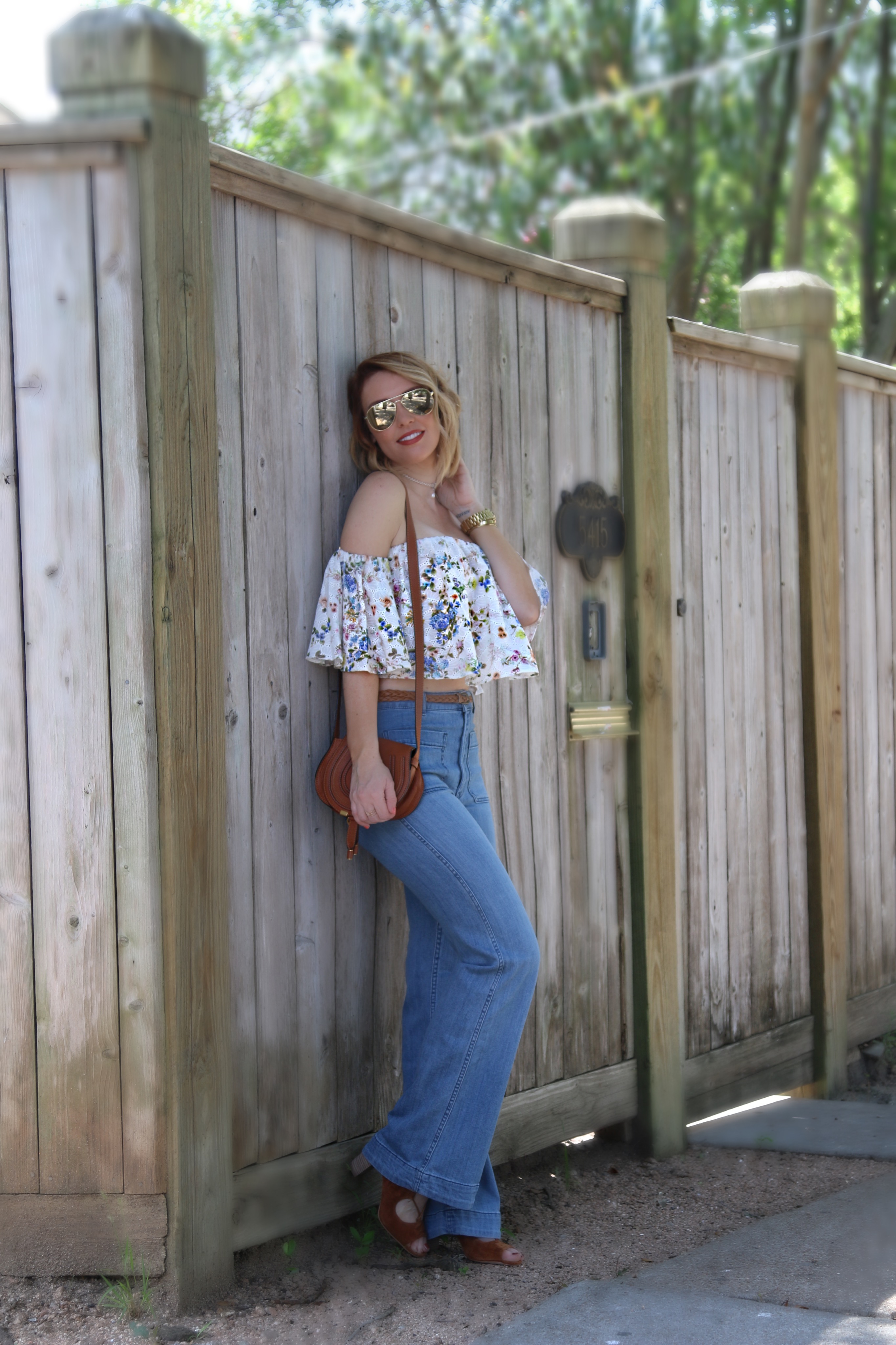 This fun flirty top is from Zara. Unfortunately, this one is sold out but stay tuned for a round up of my favorite off the shoulder options all under $100!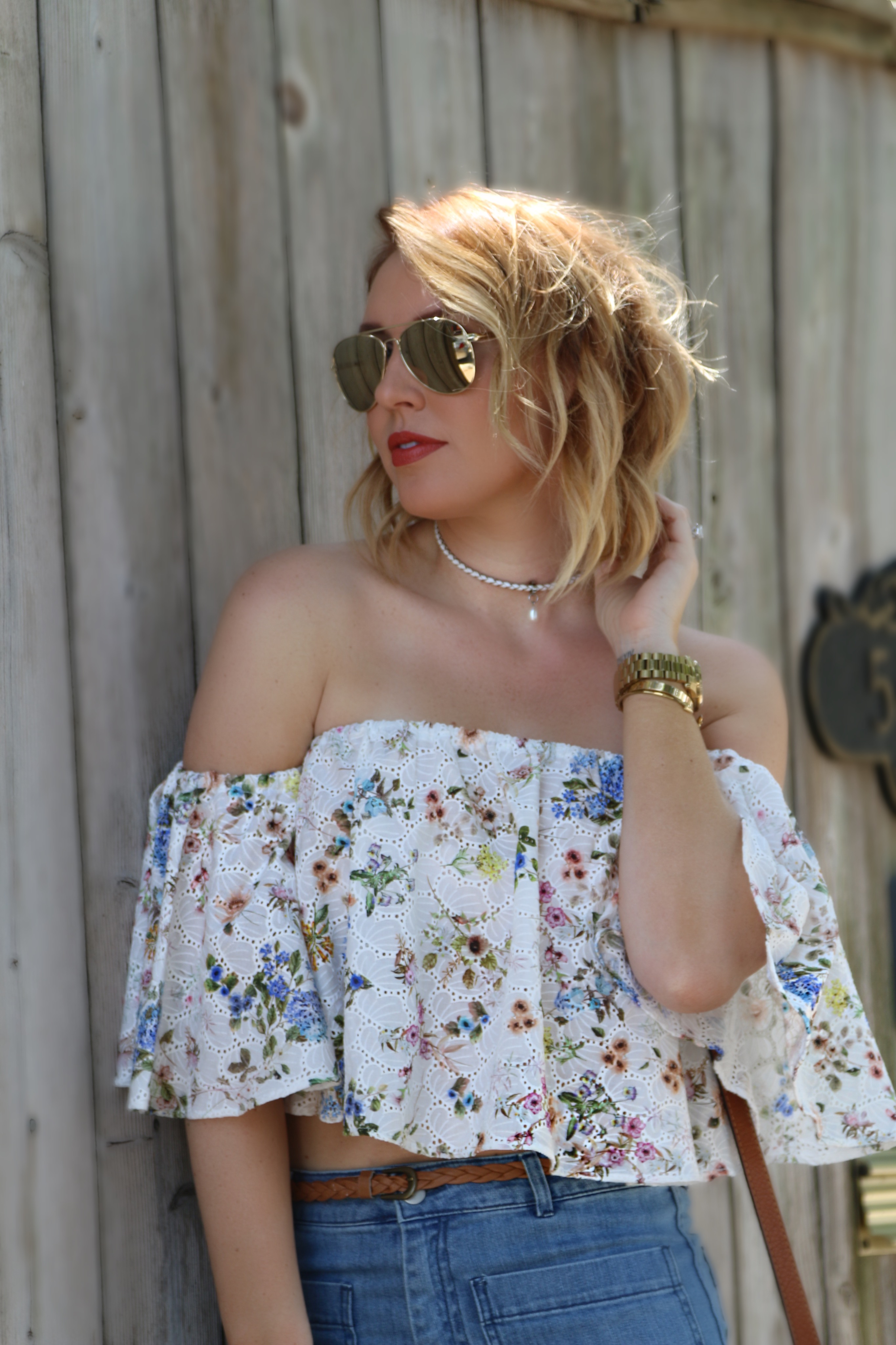 I ordered this top online, and was surprised to see that it was quite a bit shorter than it looked on the model. I almost sent it back, but decided to try it on with my high waisted jeans first and decided it would work. Since it's a bit on the shorter side, I have also layered it with a camisole underneath so it turns into more of a cold-shoulder top and provides a little more coverage.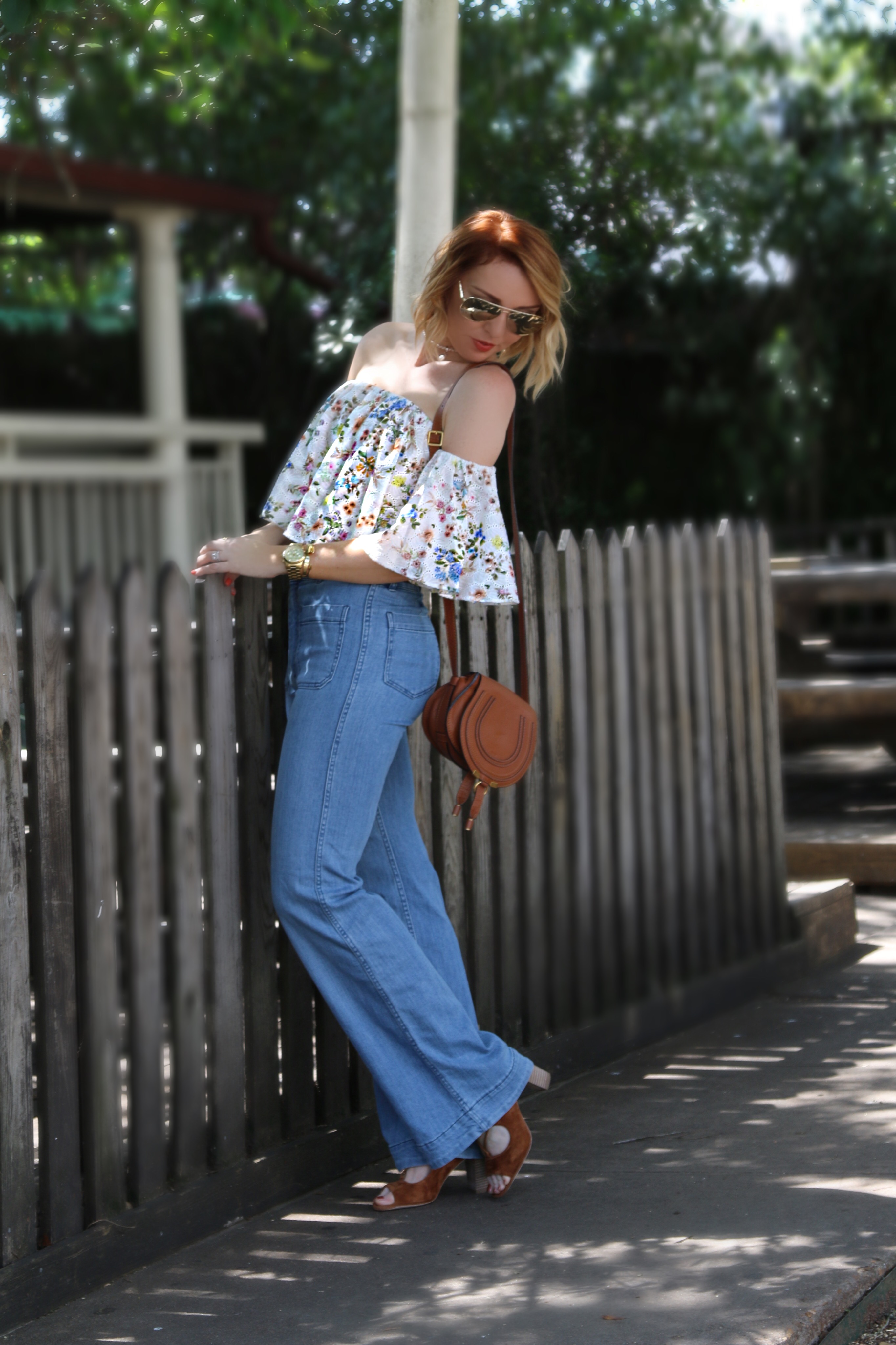 I found these high waisted flare jeans at H&M last Summer. These are no longer available but I found a similar pair of Frame denim flares on farfetch.com. Even though flares are back on trend, I'm still a skinny jean girl. I think skinny jeans are universally more flattering and wearable.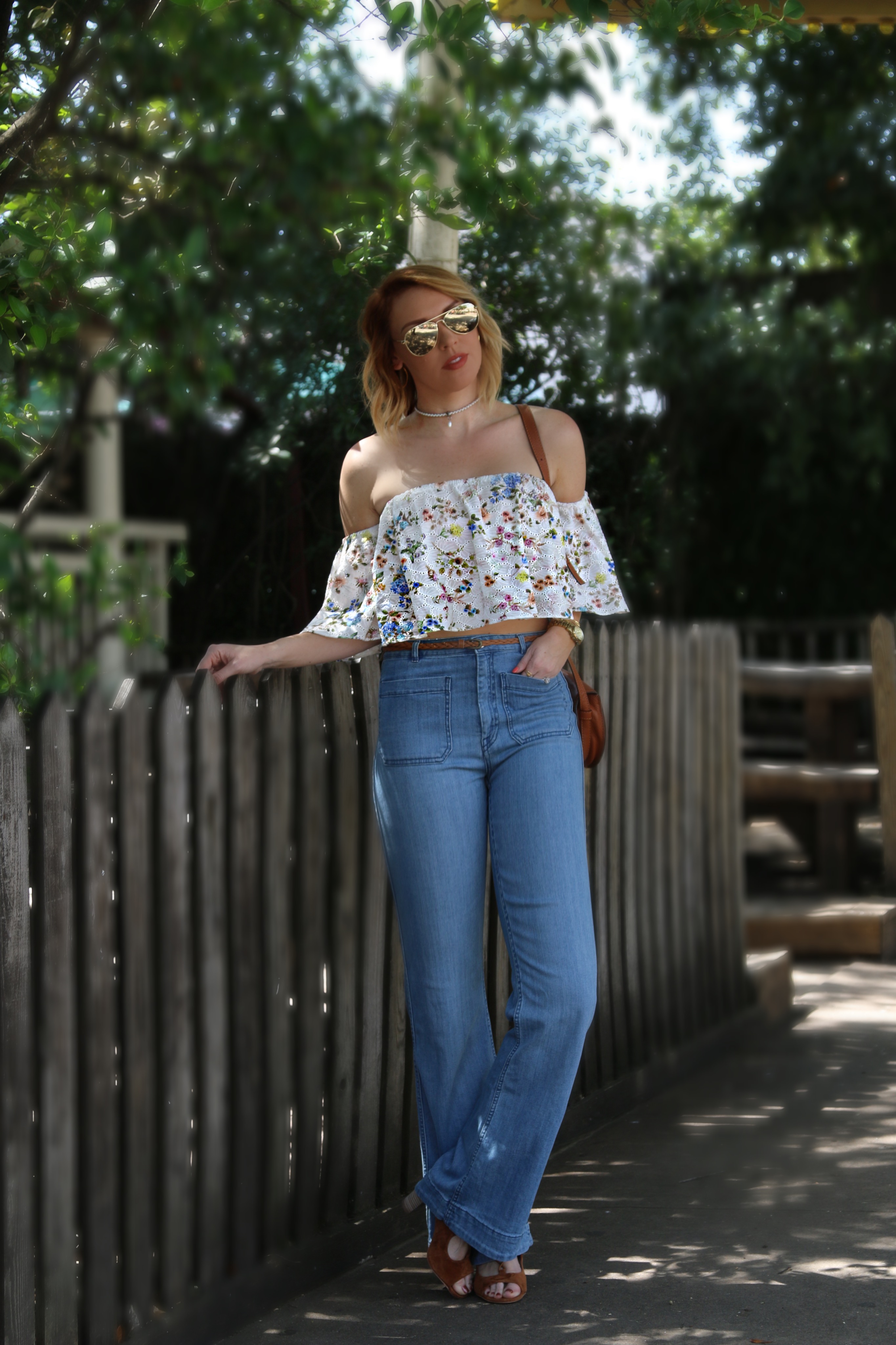 Although I generally prefer skinny jeans, these flares add an element of fun to this look. The top and jeans combined definitely give this look a more retro vibe. Regardless of silhouette (skinny or flare), I love a high waist! I think high waisted jeans are more slimming and generally more flattering for your waistline and bum.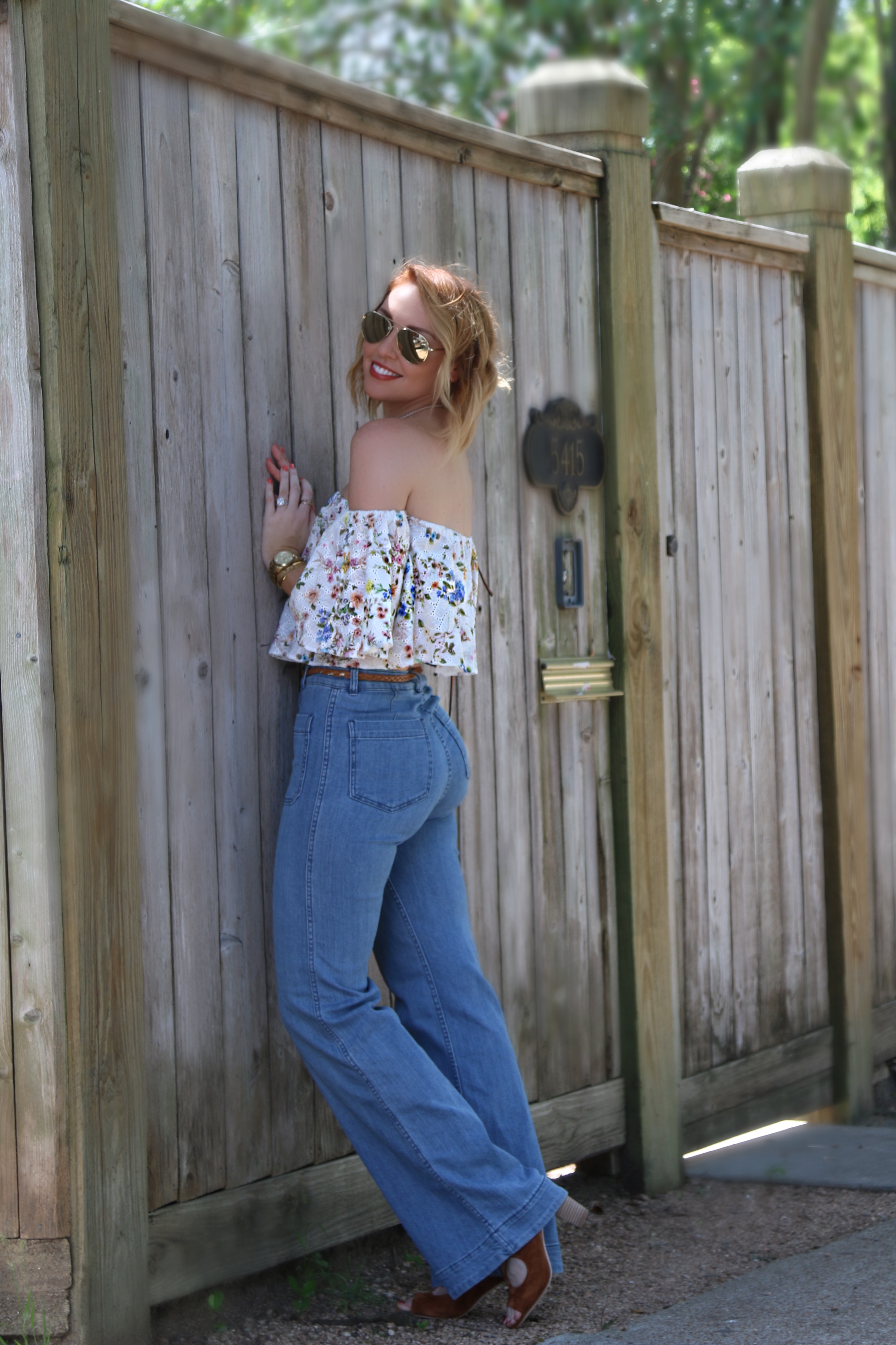 I kept my accessories for this look pretty minimal. My choker was a gift from my mother-in-law from a super cute jewelry boutique in Jackson Hole, WY called Pearls by Shari. I love this piece because of it's versatility. I can wear it as a choker or a double wrap bracelet.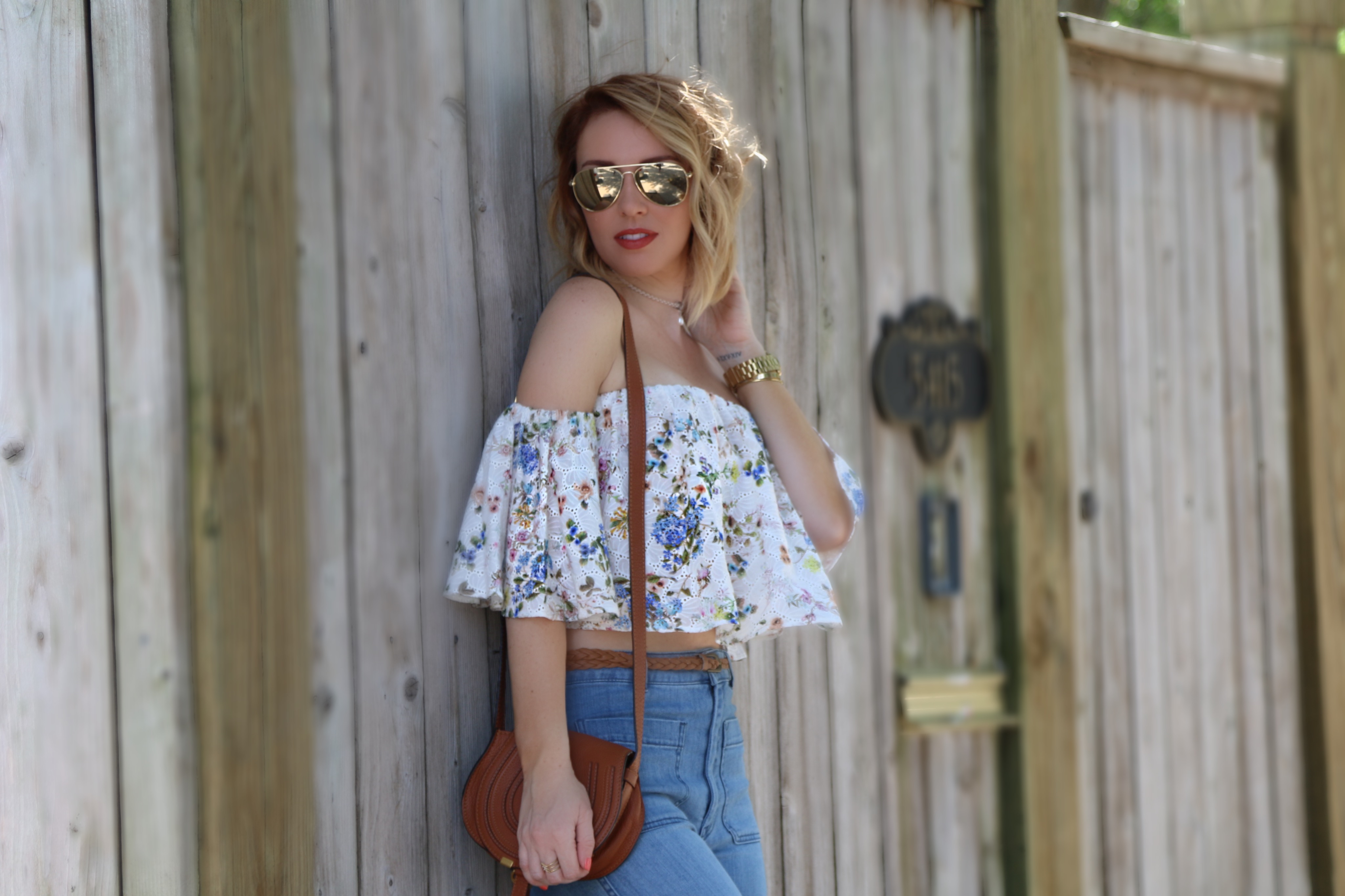 My bag is the Chloe "marci" small cross body bag. I splurged on this bag in New York last Summer, and I have to say it has been one of my best investments. I carry it year round and it goes with everything. If you're looking for something similar but not ready to splurge, this Miztique faux leather bag from Target is super cute and price conscious.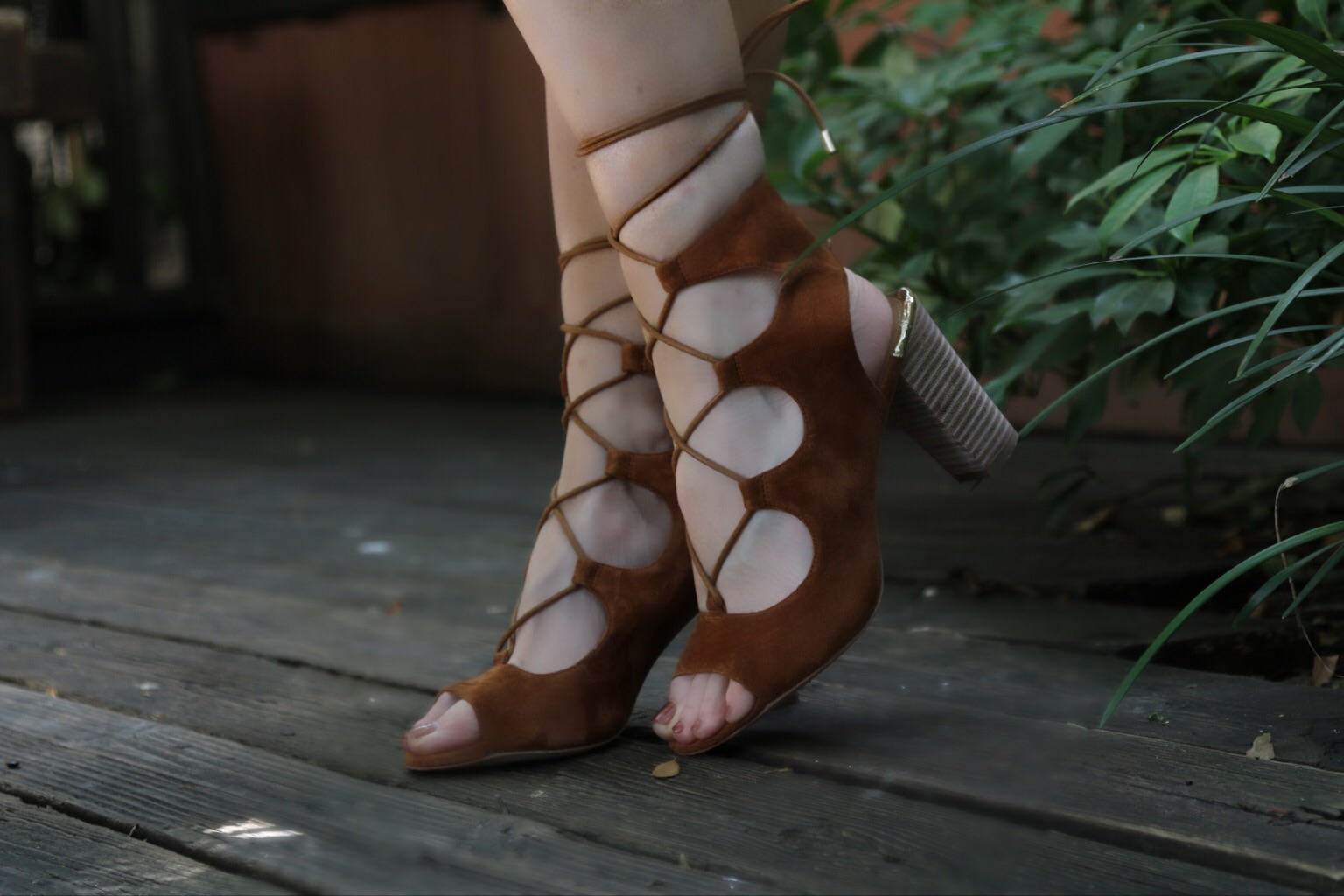 And last but not least, these "Rosline" Elaine Turner sandals have been my summer go-to. Lace-up suede is on trend, but even better, the block heel makes them super comfortable. Elaine Turner is having a MAJOR Summer sale with up to 70% off, and these sandals are included in the sale! They only have the nude color left so if you are in the market for tan sandals, I found a similar pair by Steve Madden.
TRENDING: Off the Shoulder Tops
Here's a round up of some of my favorite off the shoulder tops perfect for Summer and easy to transition for Fall. And good news, they're all under $100! Happy Shopping!

Disclosure–This post contains affiliate links. Purchasing through them will help support this blog.
Photography by Mefi Alapat