Happy Friday! Today's outfit post "Flower Power" is focused on one of this season's biggest trends: Florals. Floral prints are fun and a great way to add interest to your wardrobe but purchase with caution. There are definitely some out there that may resemble your grandmother's table cloth.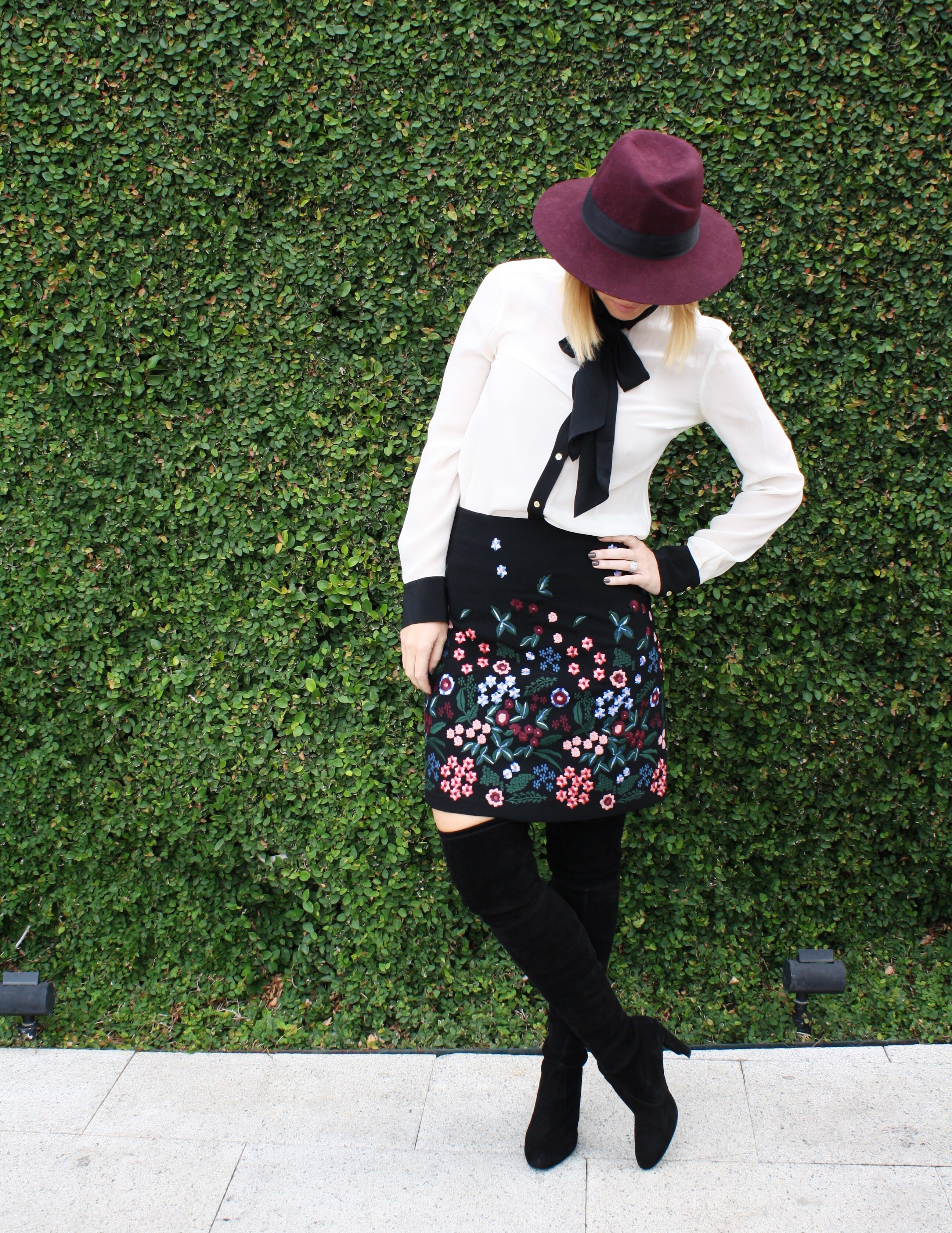 This floral embroidered skirt is from Zara. I was initially drawn to it because of the colors and the Valentino inspired print. Unfortunately, this particular skirt is no longer available online, but you may still be able to find it at your local Zara store.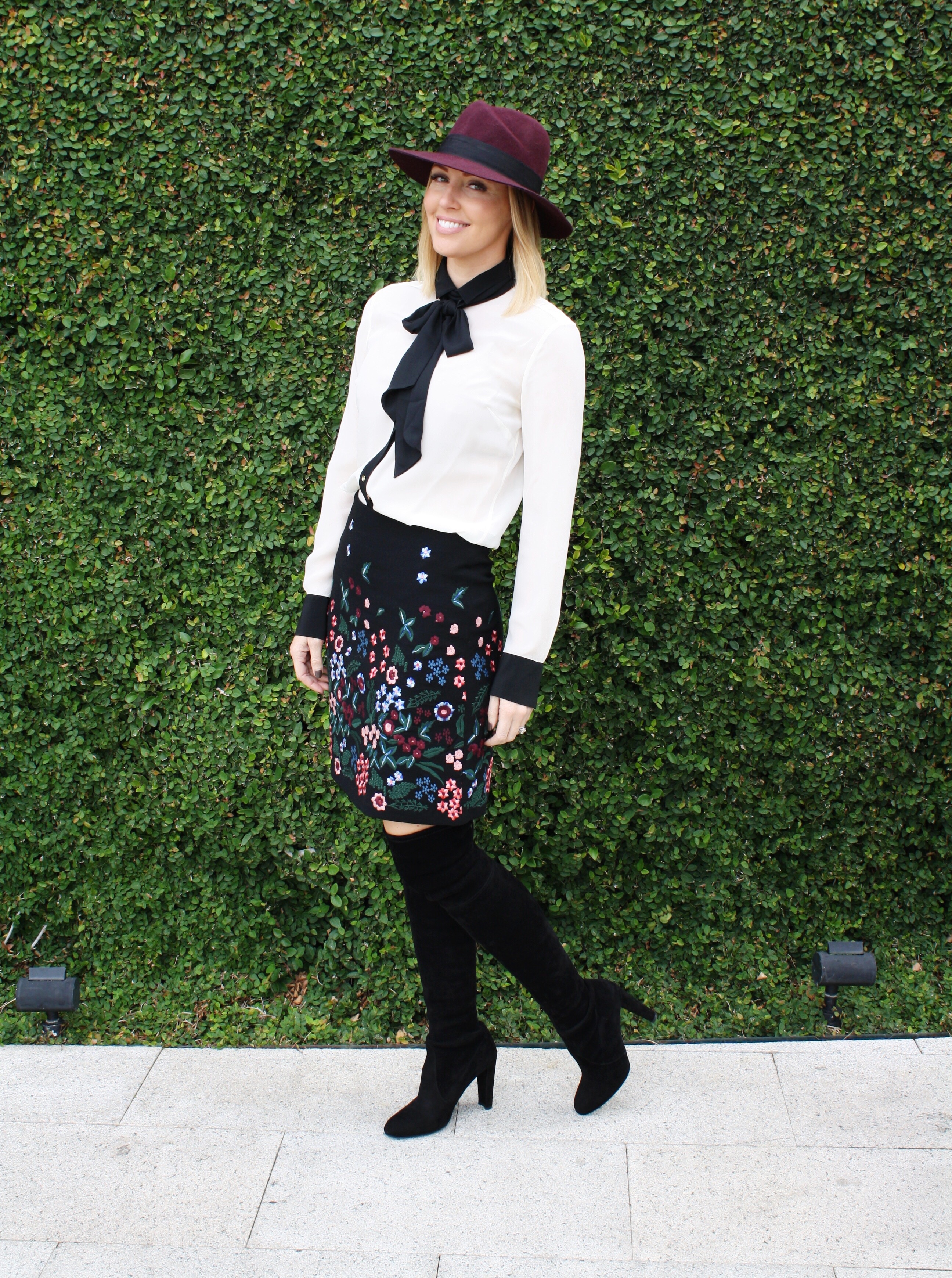 My skirt was the inspiration for this outfit so I really wanted to pair it with basic pieces that would compliment it instead of distracting from it. I chose to go with a classic ivory silk button down from Banana Republic. Mine is from a few seasons ago, but I found a few current options here and here. Bonus-they're on sale!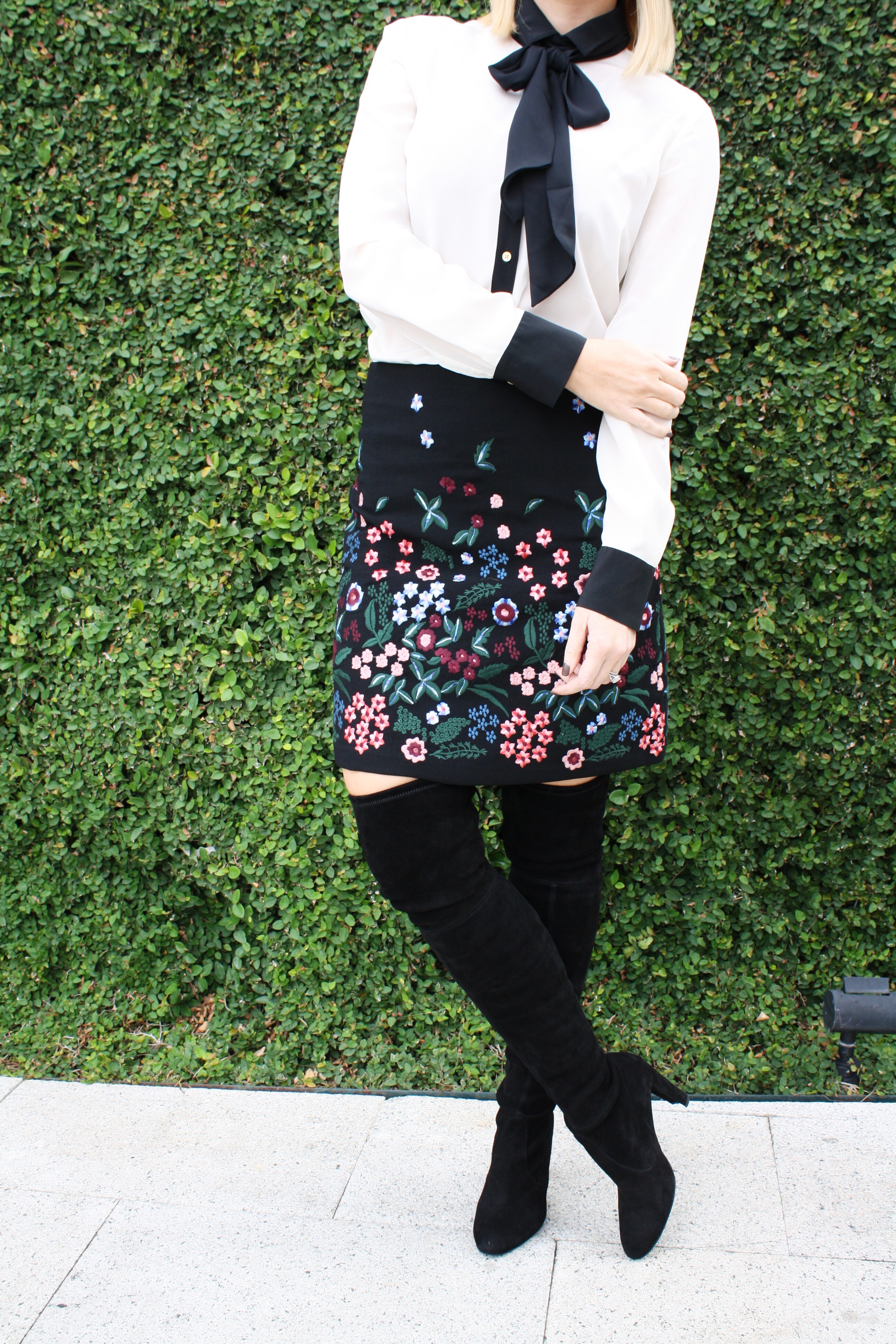 One of my favorite accessories this year has been the skinny scarf. I love that you can wear it several different ways. Here I have tied it into a bow to make a bow blouse (also a big trend this season), but you can also drape it around your neck for a more casual look. Here's more skinny scarf inspo from Refinery 29.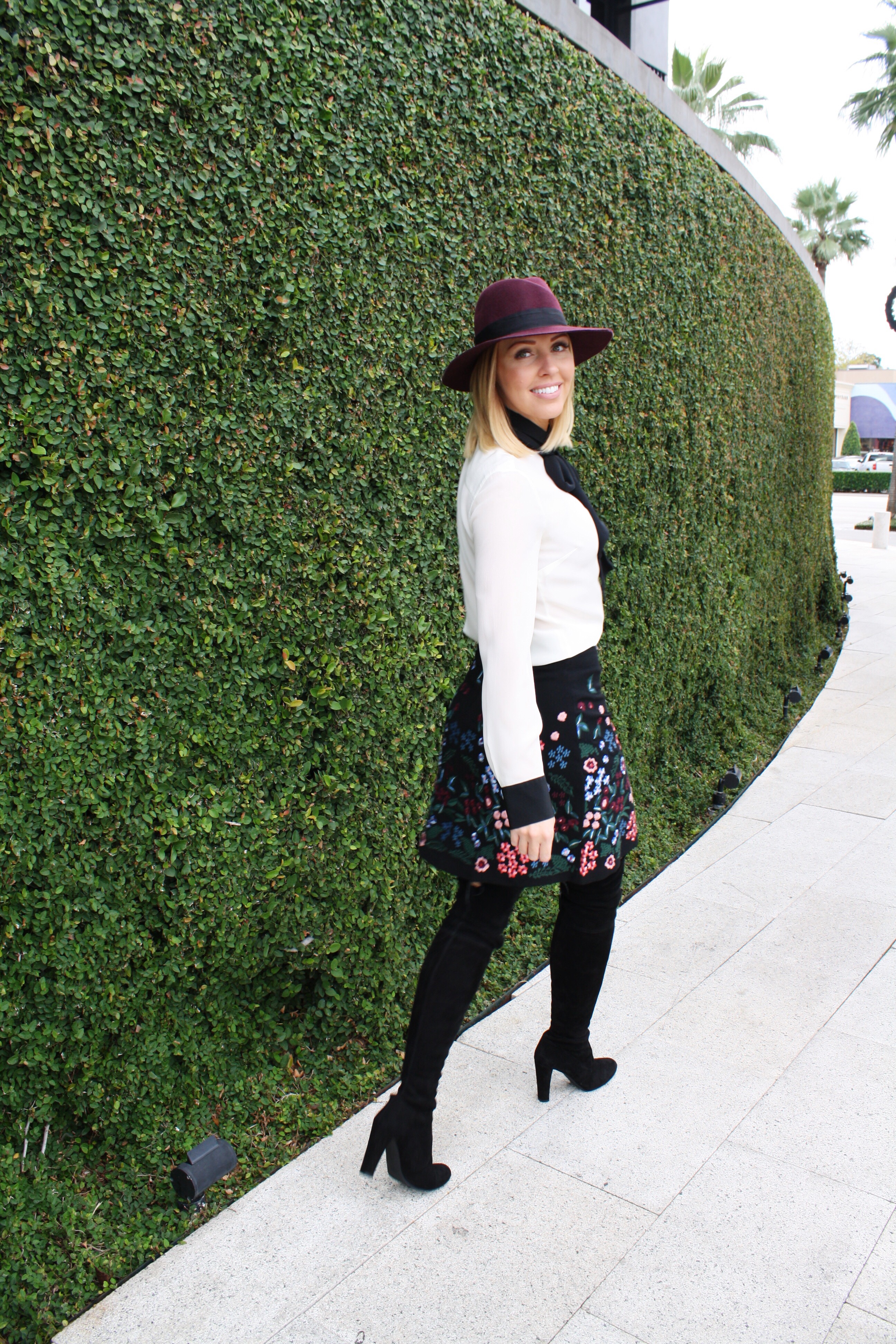 Over the knee boots have been all the rage this year. They're great to wear with skinny jeans, leggings, or dresses and skirts. My skin rule for over the knee boots is similar to my skin rule for crop tops-less is more. I like to have an inch or two of skin showing at the most. There is a fine line between over the knee boots looking chic and classy or Julia Roberts in Pretty Women. I think you know what I'm getting at here 😉 Here is a splurge and a steal version of this boot.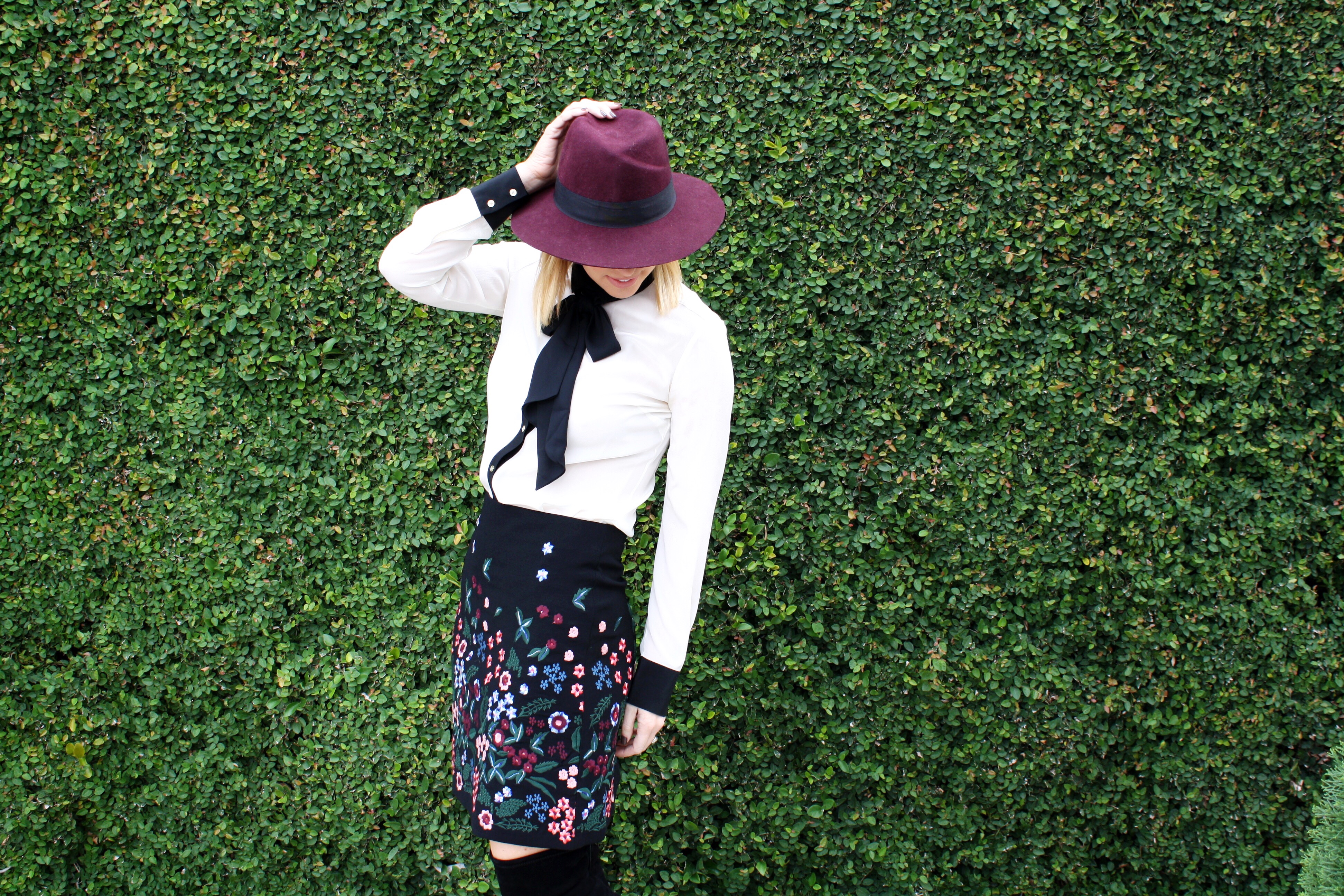 I'm an accessory girl, and one of my favorite accessories is a great hat! They are the best excuse for a bad hair day, and if you find a good one it makes you look chic and fashion forward instead of lazy. I found this gem from Annie Allbritton last year, but I found a similar style here. Speaking of Annie Allbritton, Annie and I have teamed up for an exciting giveaway happening next week so stay tuned!!

Disclosure–This post contains affiliate links. Purchasing through them will help support this blog.
Photography by Linh Nguyen