BOYFRIEND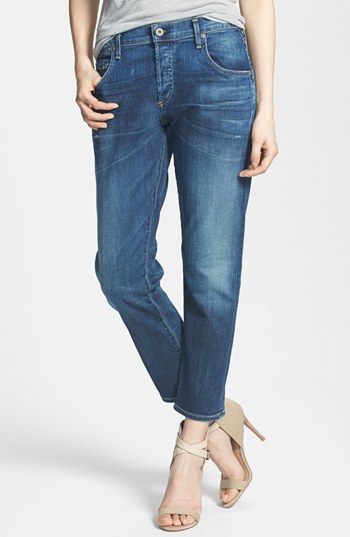 I personally think that everyone should own at least one pair of boyfriend jeans. My favorite pair are the "Emerson" Slim Fit Boyfriend Jean by Citizens of Humanity. I love this jean because it has the relaxed fit of a traditional boyfriend jean, but with a slim leg so you're not losing your shape by adding volume. Boyfriend jeans are great because you can wear them casually or you can dress them up by adding a heels and a blazer. You can wear them year round by pairing with sandals and wedges in the Spring/Summer or with ankle boots and pumps for Fall/Winter. *Stylist Note* The fit details say that these run big and suggest you go down a size. I disagree. I own a pair and suggest you order them in your normal size because they are meant to look more relaxed.         
GREY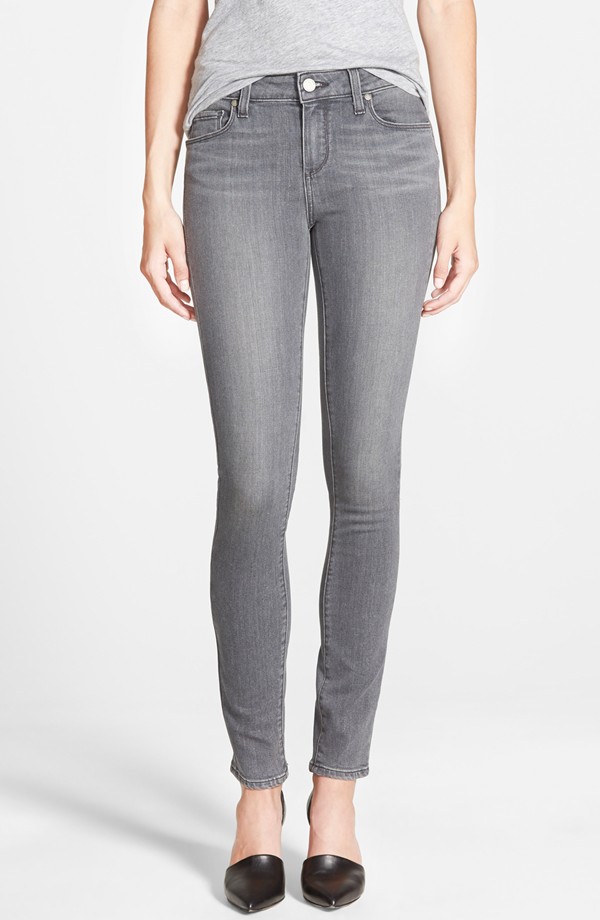 Grey Jeans are definitely a Fall necessity, and are are a great alternative to traditional denim. Pictured are by Paige Denim, and I love that they are a mid rise. A mid rise is great for a few reasons: 1) You don't have to worry about exposing too much when you bend over and 2) if your midsection is your problem area, a midrise can help camouflage it whereas a low rise will accentuate it (often causing the infamous muffin top). Again, wear these jeans can be worn casually with boots (ankle or riding) or dressed up by adding a pair of great heels. *Stylist Note* A lot of people have asked me if a skinny jean is supposed to be worn tucked into an ankle boot or rolled up. The truth is, you can wear them either way. If you roll up the jean  and 1-2 inches of skin is exposed, then it generally gives off a more casual look. If your jeans are not rolled up and tucked inside the boot then it tends to look a little more dressy.
COATED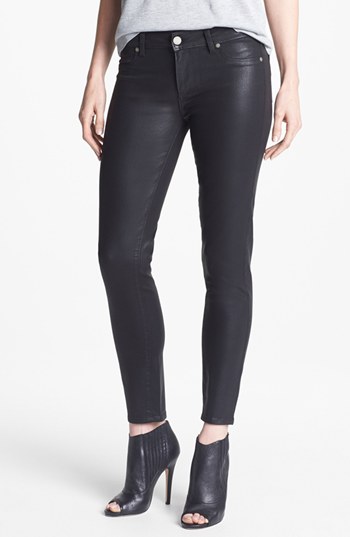 Coated Jeans are a great way to integrate the "leather" trend into your wardrobe without paying the big bucks for real leather. The jeans pictured are also by Paige Denim. Coated jeans are a perfect evening option when you're going for a dressy casual look. Because they are very fitted, I prefer to wear mine with longer tops. These are perfect for date night or girls night out and are a great way to add a little edge to your oufit. *Stylist Note* This particular pair is dry clean only so make sure to read the care details before washing.
ARMY GREEN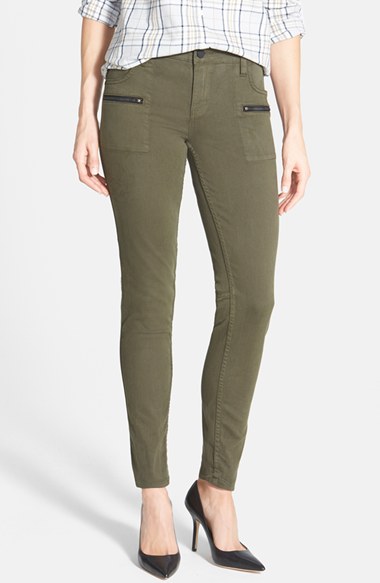 Army Green jeans are another one of my Fall must-haves. Army Green is the new Khaki, and it is a neutral that goes with most everything. The jeans pictured are by Sanctuary, and I love the pocket detail. Over the past few years, I have accumulated several pairs in this color, and I wear them year round. For Fall, these look great with a cute ankle boot or perhaps a leopard print flat.
DISTRESSED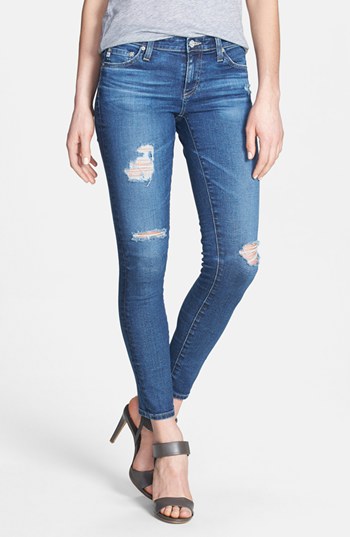 Distressed denim is making its comeback in a big way. Pictured is the AG "The Legging" Ankle Jean. I have a few pairs of this particular jean, and they are so COMFORTABLE! The fabric is much softer than traditional denim. This distressed look pairs great with converse sneakers if you're going casual or with heels for something more dressy. I like the contrast of adding a blazer to casual ripped denim because  distress makes the look a bit more edgy.
Most of us find it hard to wear jeans in the Summer because they're too constricting when trying to cope with the heat. Fall is the perfect time to invest in some great denim. I definitely consider jeans an investment piece and recommend allocating more of your budget to a few great pairs rather than a few trendy tops. Jean trends have staying power, and if you buy good, quality denim then you can wear it for several seasons before having to replace. Happy Shopping!
XO-Natalie
Disclosure–This post contains affiliate links. Purchasing through them will help support this blog.