Happy Friday! Sorry I've been MIA for a few weeks! Spring styling appointments are in full swing so trying to manage both can be a challenge! Today's neutral look is great for this in-between weather we're having. I have blogged about mixing prints before, and one of my favorites is mixing leopard and plaid.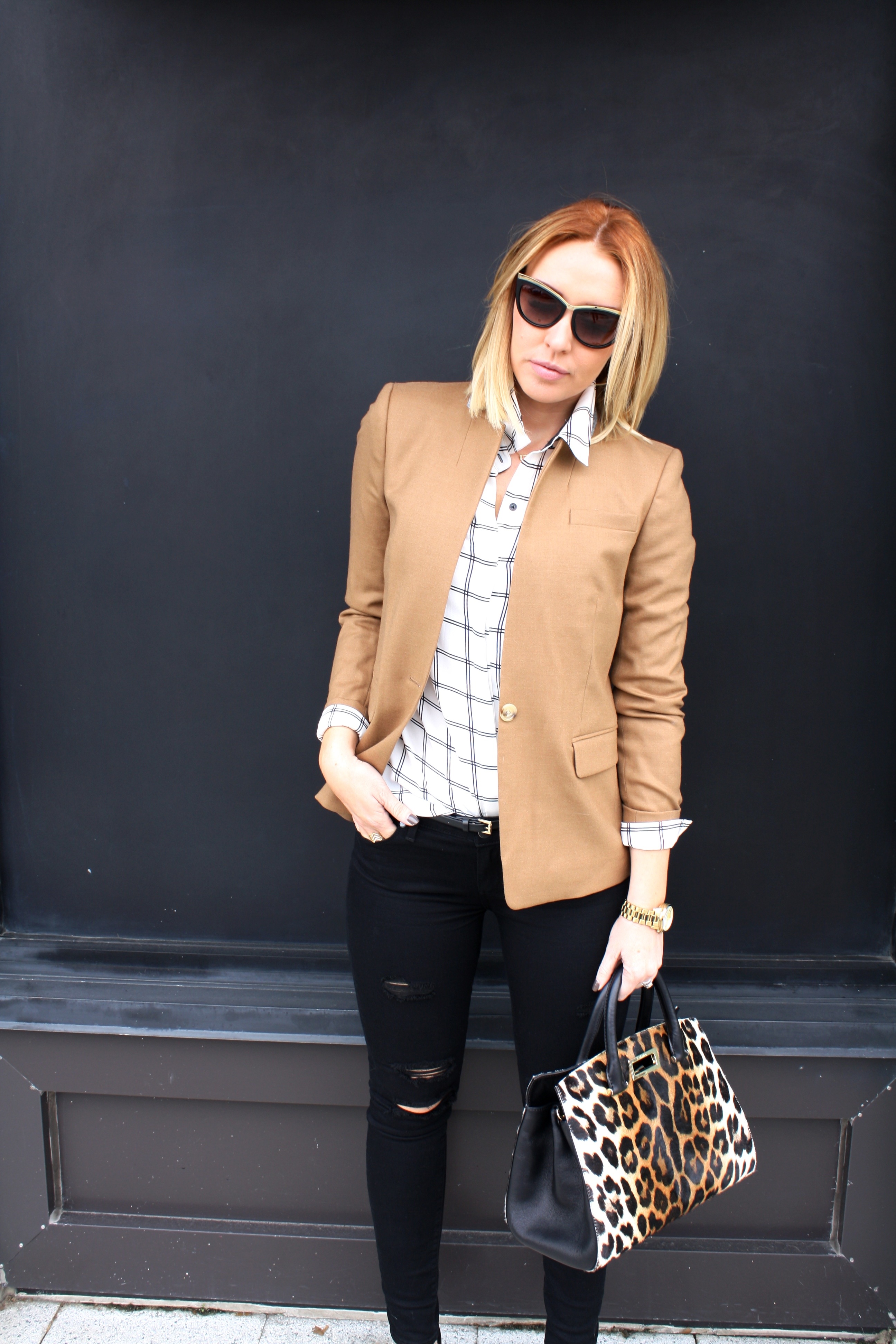 The trick to mixing prints is making sure that you stay in the same color family. As you can see, I focused on camel, black, and white and the prints look balanced. My plaid button down is one of my favorites from White House Black Market. This one is from last year, but I found a similar style from The Limited that is currently on sale for 40% off.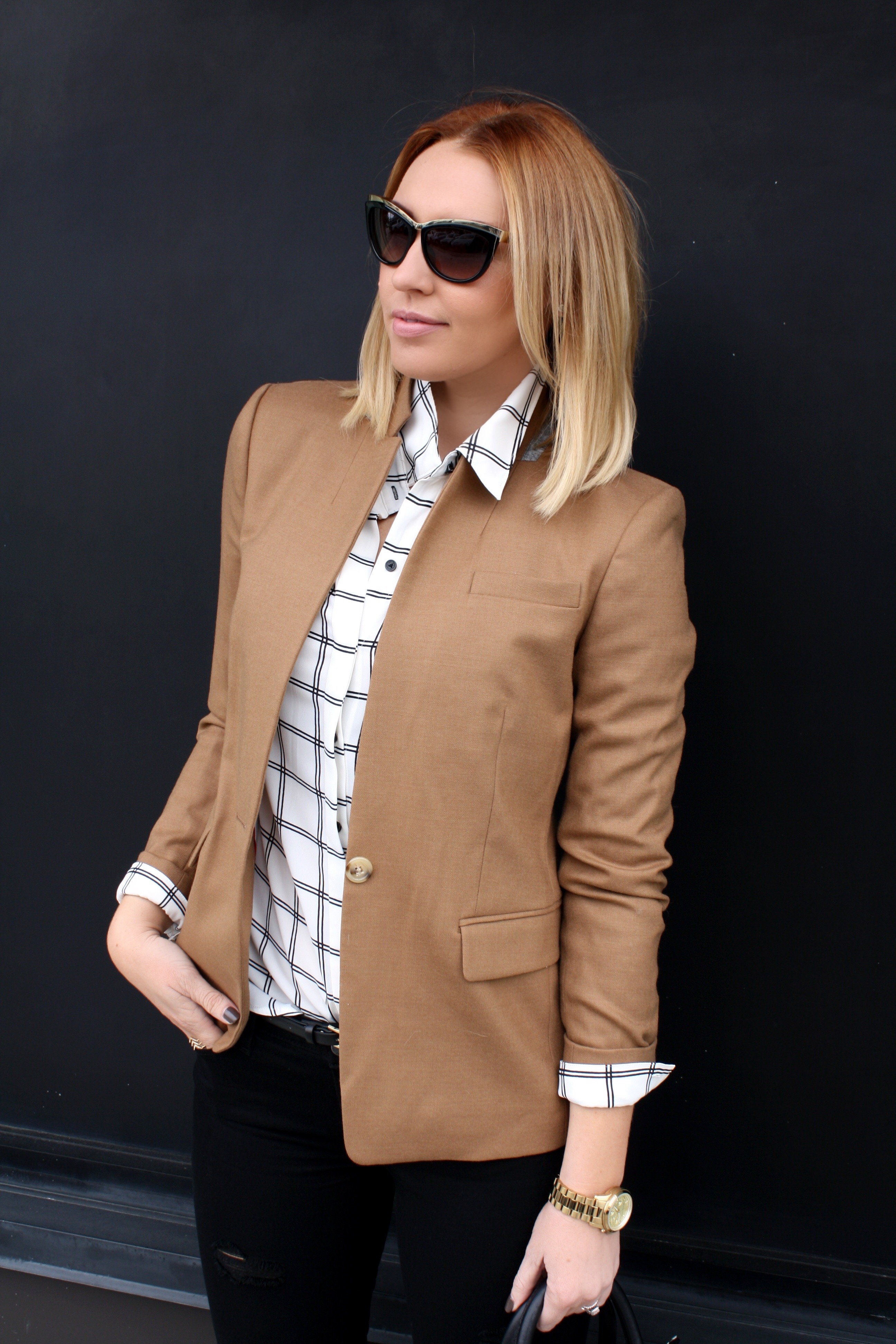 My camel blazer is from J. Crew and is on sale! This is definitely a piece worth investing in. It transitions well from Fall to Spring, and I get compliments on it every time I wear it. If our weather turns, as if often does, and becomes to warm for a blazer you can swap it out for a sleeveless trench vest like this one from White House Black Market. This trench vest has been one of my favorite Spring purchases, and it's on sale right now from $170 to $50.00!!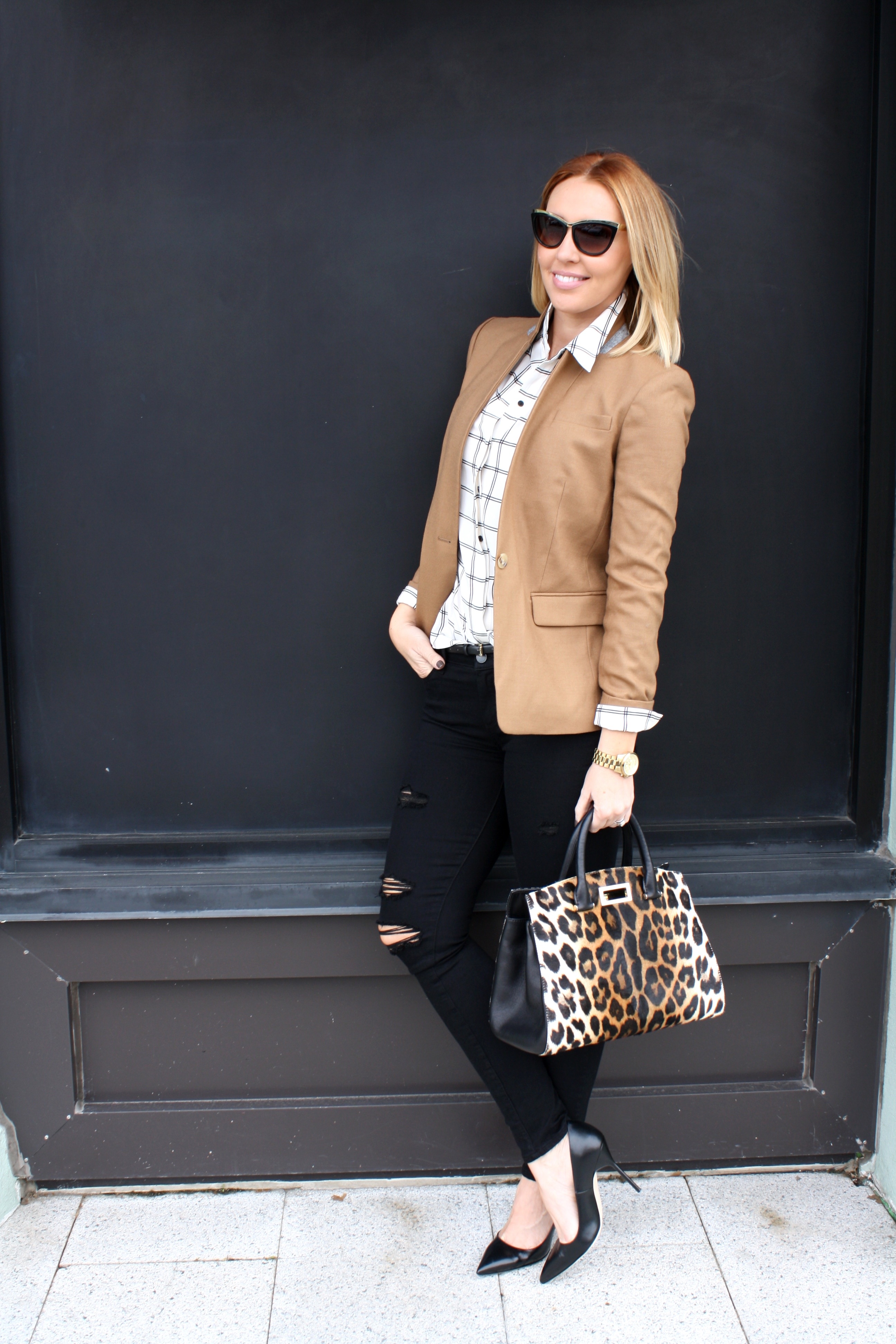 This outfit includes some of my favorite wardrobe pieces including these black ripped Paige jeans. These jeans have been my go-to since Fall, and I plan to wear them until the weather makes me stop! They are a bit of a splurge, but if you find a pair that fits great and you wear them often then sometimes it's worth it. Not ready to splurge? Here's a similar style from Express for a fraction of the price.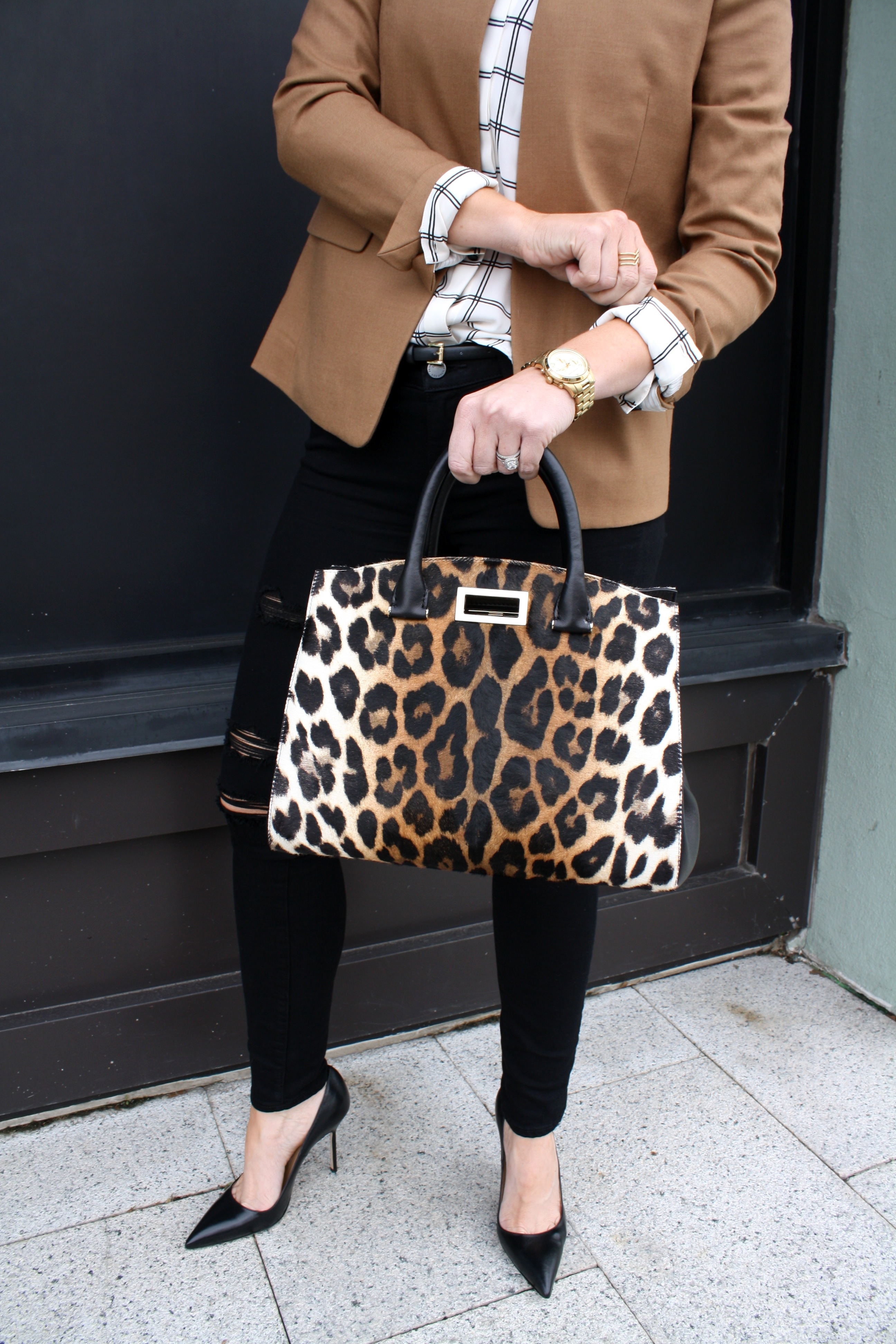 Leopard print is my favorite neutral! And as I've said before, it's a great way to add a pop of interest to your outfit. Your accessories are a great place to start. My bag is one of my favorites from Max Mara, but, unfortunately, it is no longer available. I found a super cute leopard print satchel from White House Black Market, or if you prefer a cross body style, here is one from Sole Society.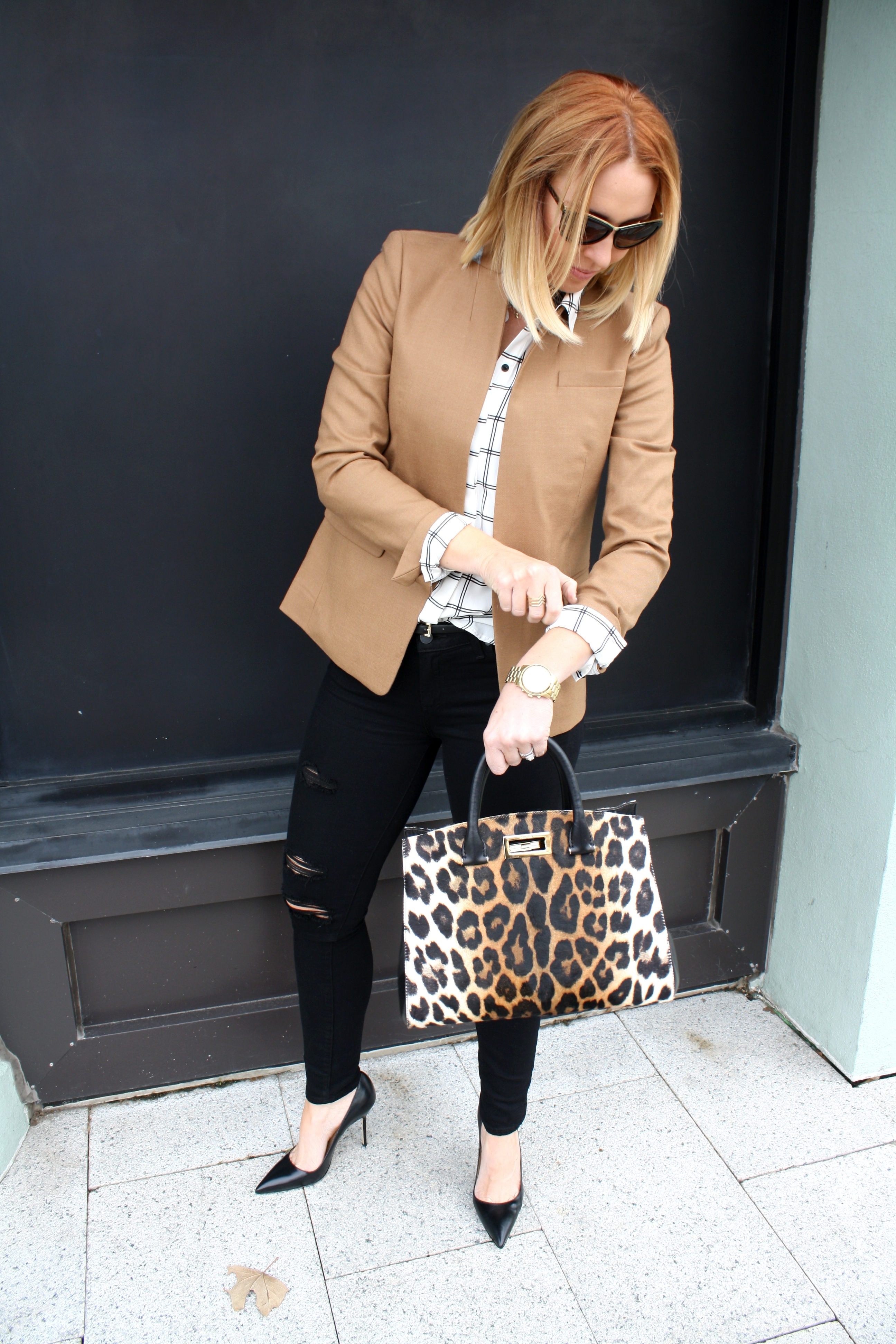 Last but not least is a classic black pump. Black pointed toe pumps are definitely a wardrobe staple, and my favorite mid-priced pump is the "Carra" by Ivanka Trump. This is a super easy look to transition from day to night. You can wear black flats for day and swap the flats for heels for night. I love dressing up jeans with pumps for a more "Dressy Casual" vibe.

Disclosure–This post contains affiliate links. Purchasing through them will help support this blog.
Photography by Linh Nguyen