With temps in the 80's in Houston this week, I think it's safe to say it is officially Spring (or Summer)! This is one of my favorite times of the year because everyone is ready to get out and wear their colorful Spring/Summer clothing.
This season pastels and polka dots are on trend. I purchased this jacket from Zara a few Summer's ago, but it's still one of my favorite pieces. I love the colors as well as the fact that it was clearly inspired by classic Chanel. The blouse I'm wearing is  from Forever 21. Even though I bought these pieces at different stores and at different times, they work together because the colors are so similar. Click the following links to see another example of a Summer Tweed Jacket and Polka Dot Blouse combo.
In addition to the trends I mentioned above, another big trend this Spring is mixing prints. Mixing prints is a great way to make your outfit more interesting. Although some people may shy away from this initially, the rule is simple: the colors must coordinate.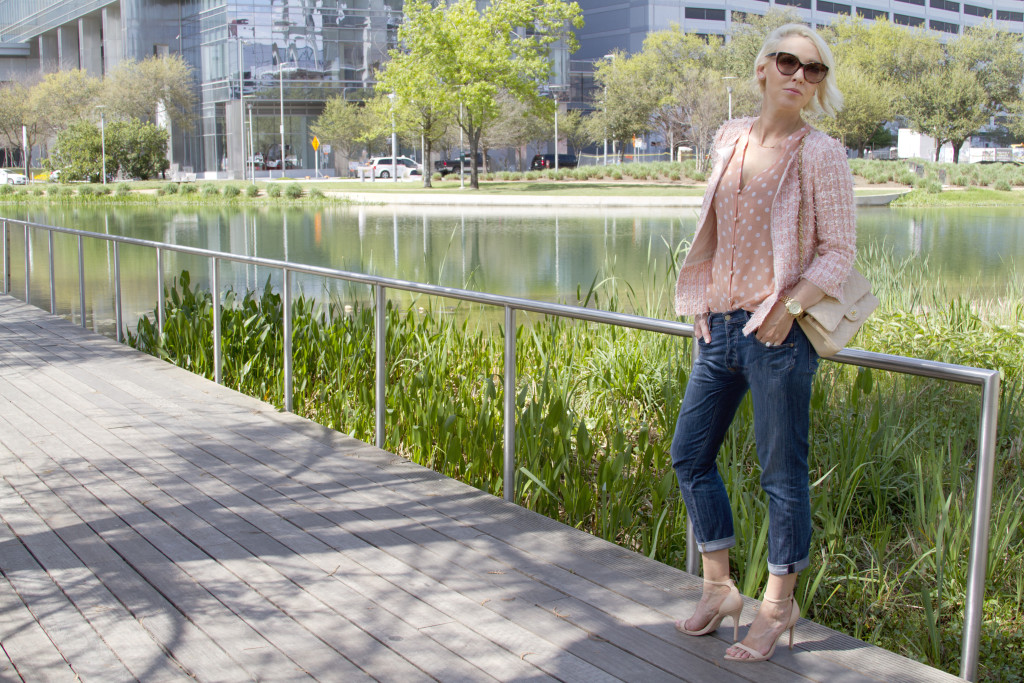 I am OBSESSED with these boyfriend jeans. If you don't own a pair, I highly suggest you invest in one. Not only are they super comfortable and work great for casual looks, but they also transition into a dressy casual look by pairing them with heels. The pair I'm wearing are by Citizens of Humanity and can be found at Nordstrom.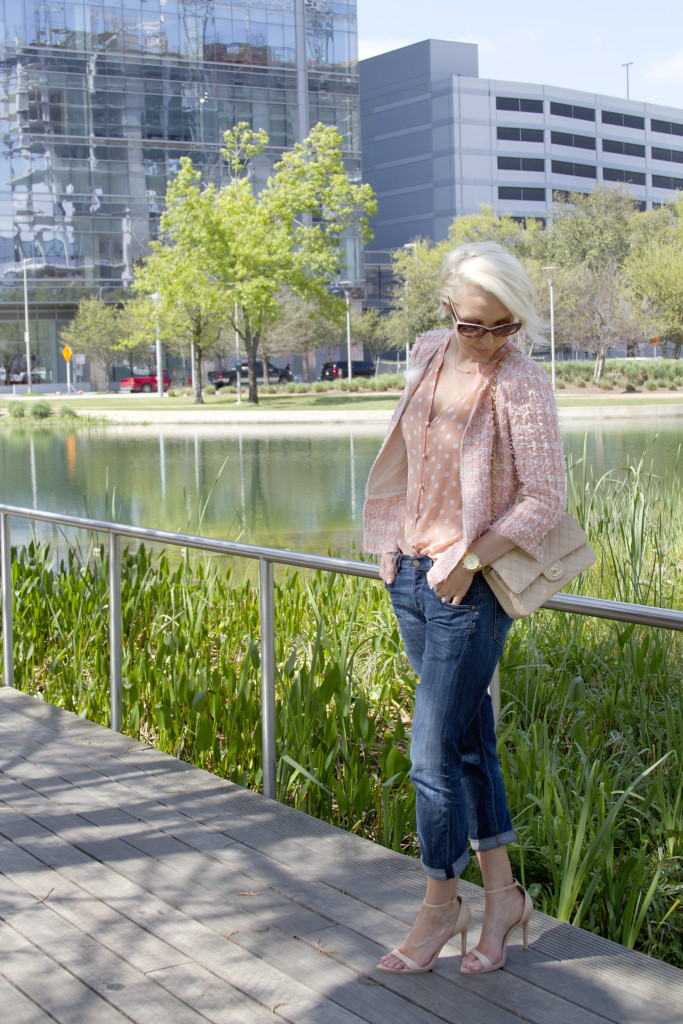 I kept my accessories pretty simple. And on a side-note, I LOVE a good pair of sunglasses! My husband teases me about my collection, but they can be a great compliment to your outfit. I chose these Prada glasses because of the cat eye shape. I feel like the cat eye instantly adds a little sass. My necklace is by one of my favorite jewelry designers Gorjana. You can find this brand locally at Nordstrom or at French Cuff Boutique. One trend I haven't gotten tired of is chunky, men's-inspired watches. The one I'm wearing is by Michael Kors from Nordstrom (on sale now!).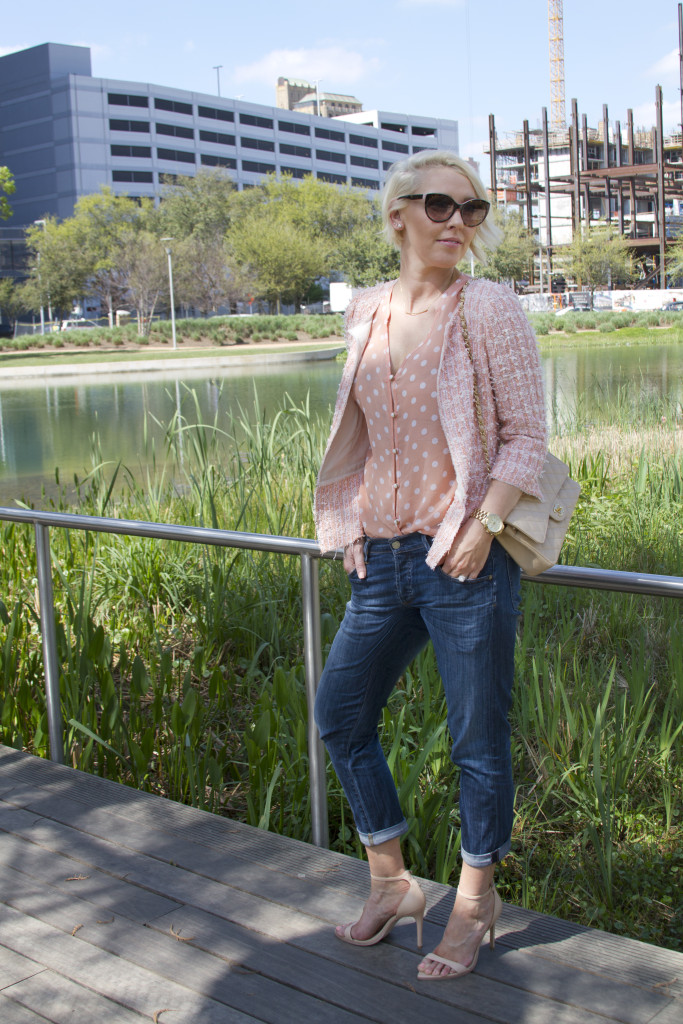 My shoes are Zara, and I often get compliments on them. They are simple and elegant and can be worn with a cocktail dress or a pair of jeans. I purchased mine last Summer, but Steve Madden makes a similar pair. Last but not least, my handbag. This was my dream bag, and honestly I still can't believe it's mine. My sweet husband surprised me with it for Christmas a few years ago. I cried (literally).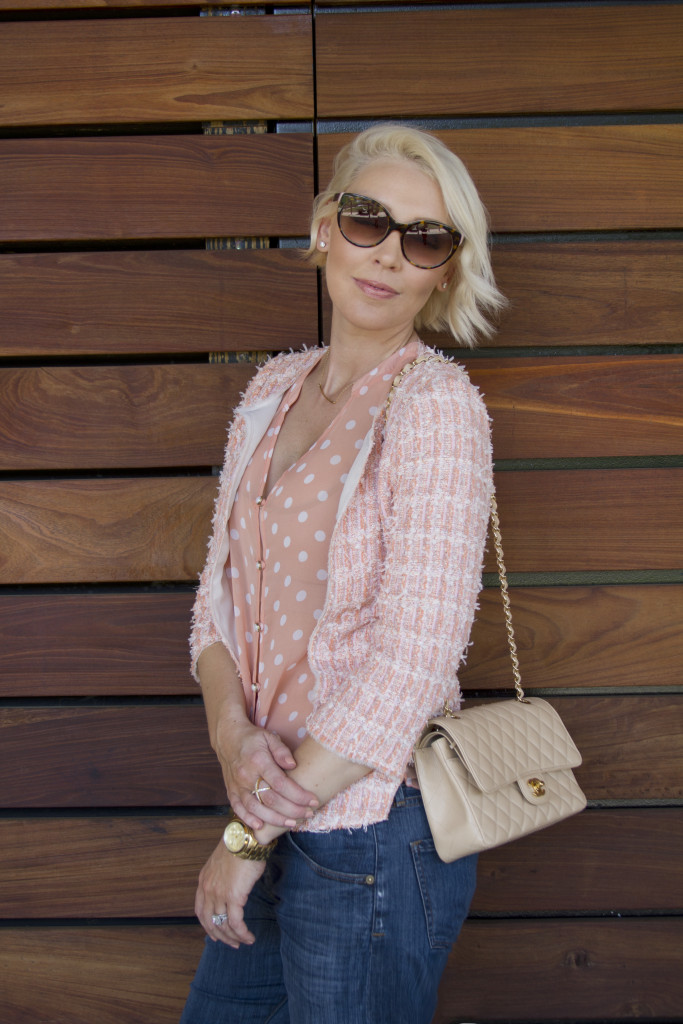 I love the idea of  "High-Low" fashion (mixing high and low price points); this is very much my fashion mantra. I often prefer to invest in shoes or handbags rather than high priced clothing. I know that I will get much more use out of a great pair of shoes or a classic bag than I will a dress or a blouse.
XO-Natalie
Photo credits to my incredibly talented friend Hayley Jackson