Welcome Spring! As much as most of us love this season, it can be a challenge to dress for. We've seen this in Houston lately with Highs in the 80s and Lows in the 50s. The key to dressing for fluctuating temps is layering. I love Spring sweaters for this exact reason. Light sweaters or cardigans are a great way to add warmth, but can be removed easily if temperatures start rising. Not to mention, they come in handy when you work at or go into a freezing cold office building!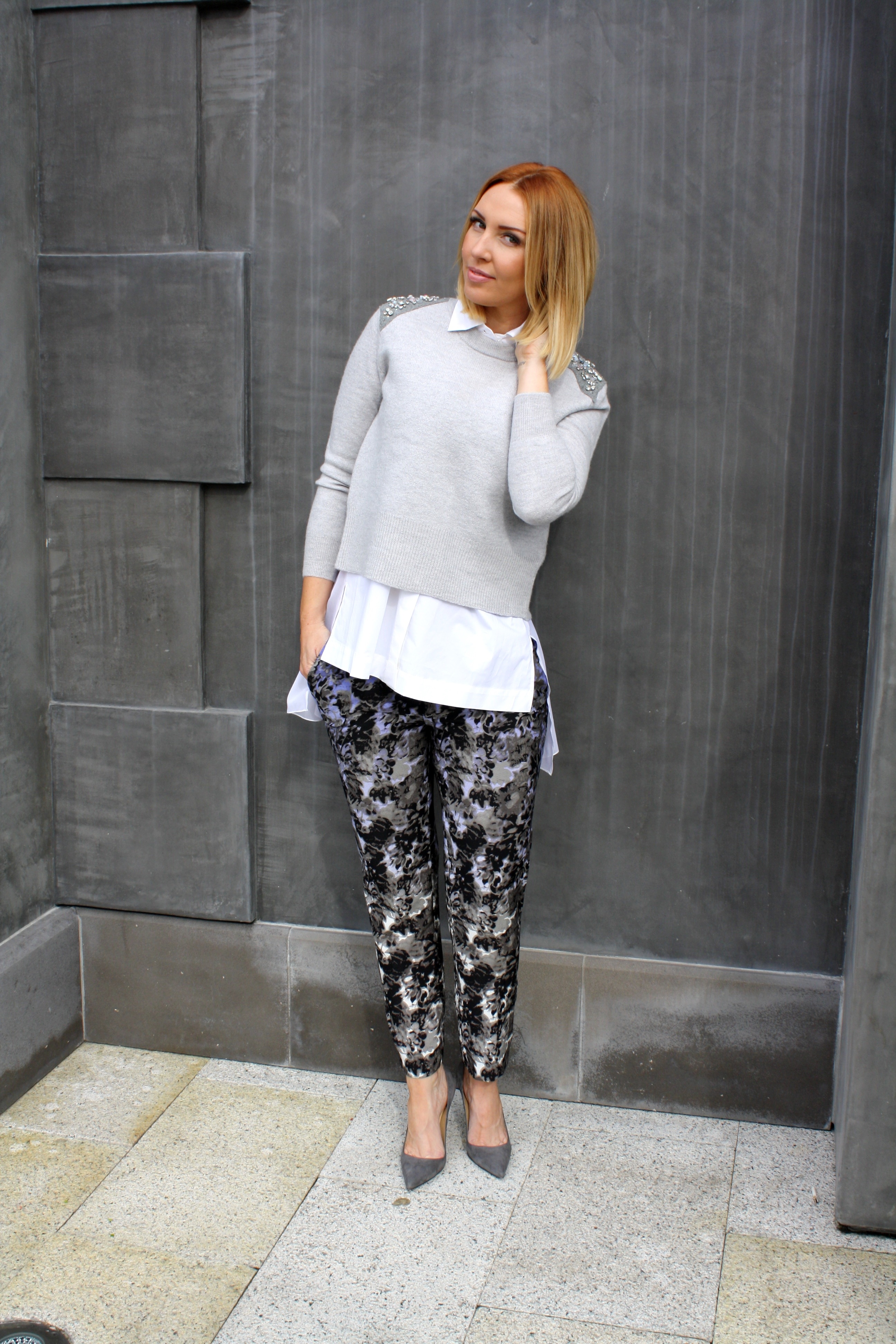 I found this heather gray sweater on sale at J.Crew at the first of the year. I was instantly drawn to the light gray color because I knew it would transition well for Spring, but even more so I was drawn to the details. The embellishments at the shoulder and the zippered back really make it an interesting piece. I am loving these lightweight three quarter length Halogen sweaters for Spring. You can layer them or wear them alone and they come in several sizes and colors for under $60.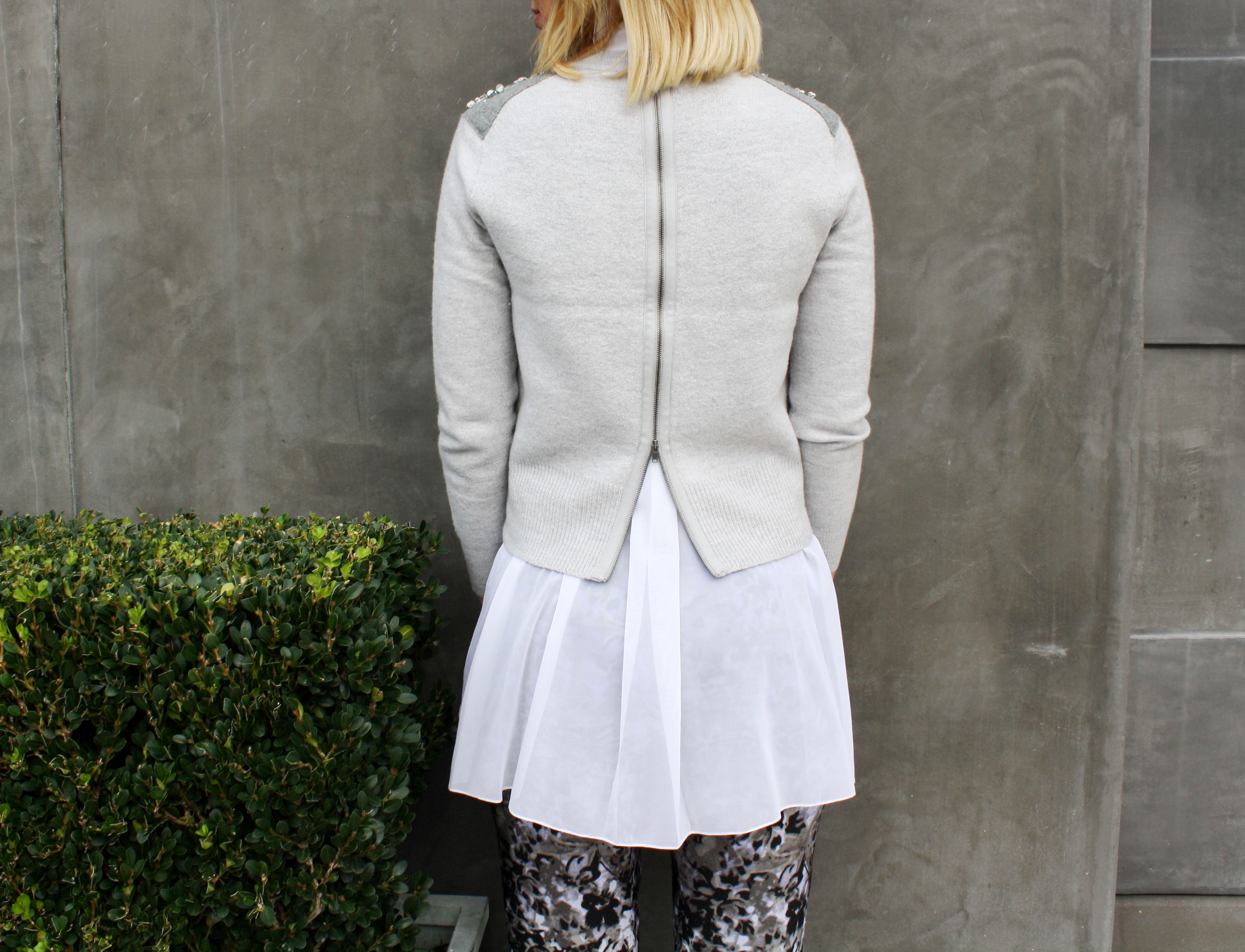 As I mentioned previously, one of the characteristics that drew me to this sweater was the zipper detail in the back. I wanted to pair the sweater with a high low button down to accentuate the interest the zipper creates. For Spring layering, I recommend layering with a sleeveless shirt. It will help alleviate getting too warm. The Portofino shirt from Express is one of my favorite Spring/Summer items. The fabric is lightweight and fairly wrinkle resistant, it comes in sleeveless and three quarter length sleeves and can also be found in a variety of colors.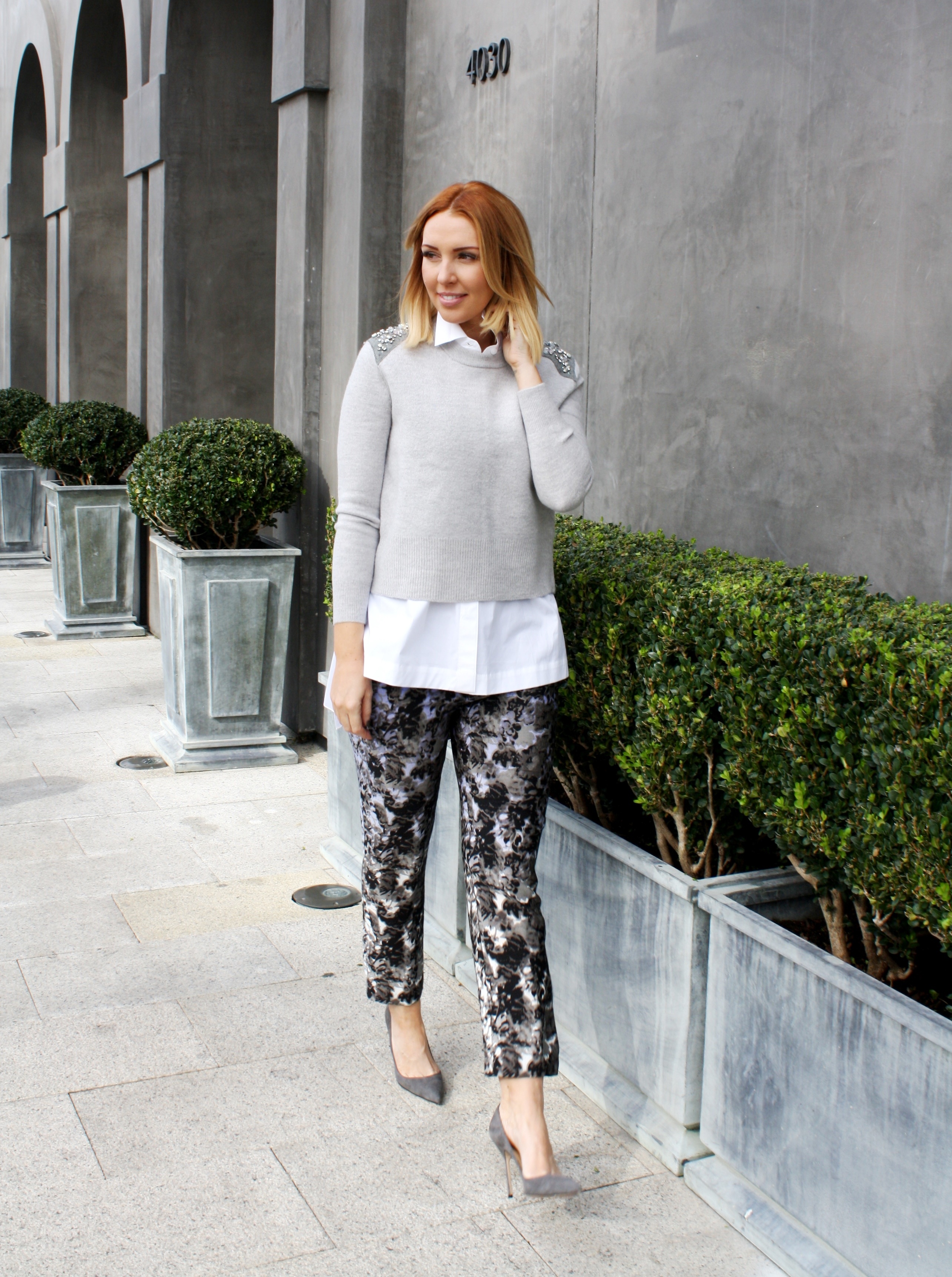 "Florals for Spring? Groundbreaking."-Miranda from the Devil Wears Prada. But it's true! I am loving Florals this Spring, and these ombre floral pants are perfect for dressing up or dressing down. Printed pants are great, but if they're a bit bold for you try a skinny ankle pant in a fun color instead. The "Editor Ankle Pants" from Express and the "Exact Stretch Ankle Pants" from The Limited are two of my favorites.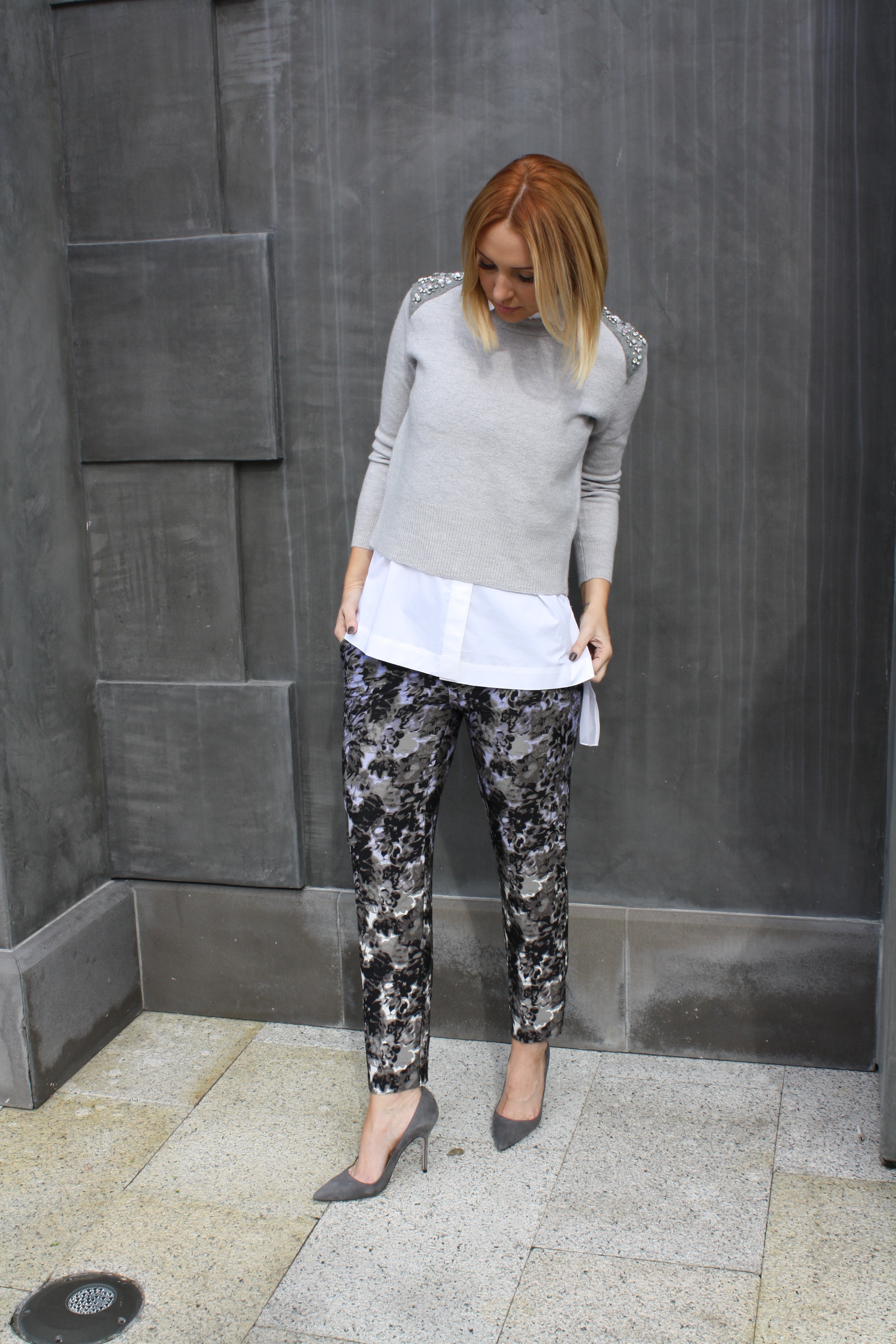 Basics are a very important part of a wardrobe and a crisp, white button down is definitely one of them. Basics don't have to be basic! Adding pieces with a twist like a high-low hemline or a crossover back like this one by Halogen is an easy way to add interest to a simple piece. If you prefer to stick with a classic white button down, this stretch poplin shirt by Halogen is my absolute favorite. It's lightweight and makes a great layering piece.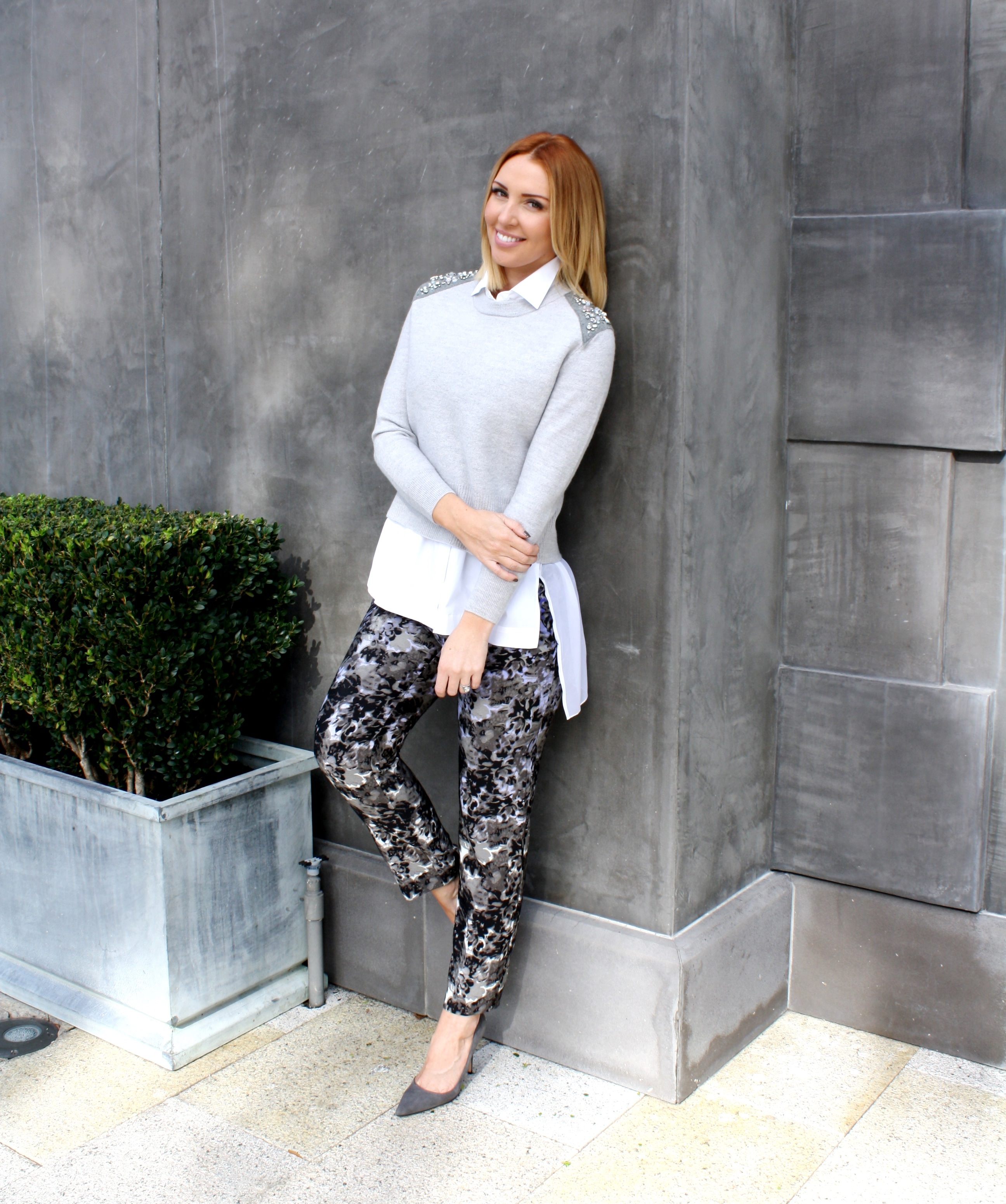 Grey suede pumps are a great neutral, and a perfect transition from winter to Spring. The "Primpy" pump by Steve Madden is great because material is nubuck (not as delicate as suede), and the block heel makes for a much more comfortable shoe. This heel is a perfect "work to weekend" option.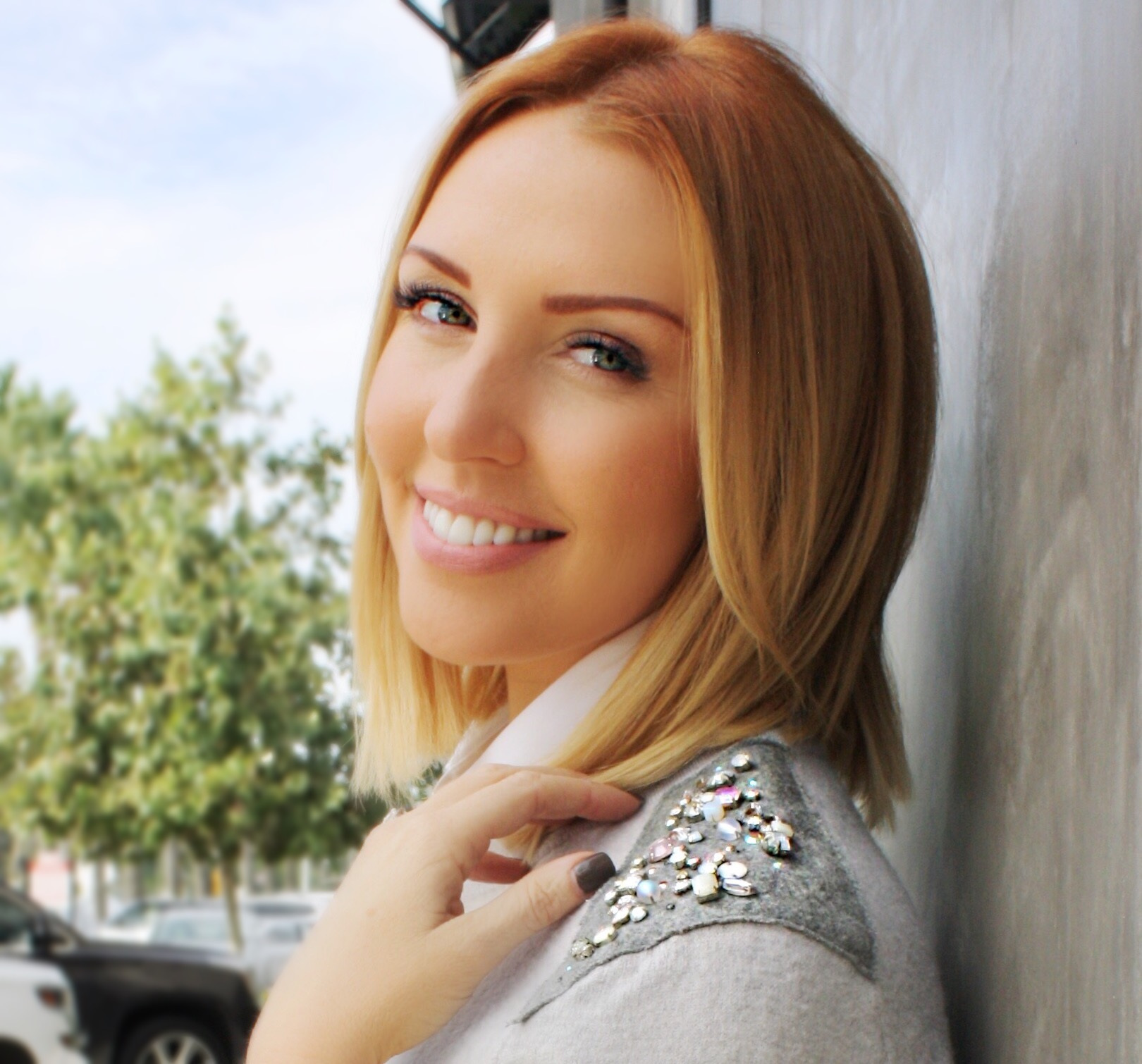 Embellished tops are a fun way to add subtle bling to your wardrobe without needing additional accessories. This embellished sweatshirt by Soft Joie (on sale!) or this embellished lightweight sweater from Express is the perfect combination of dressy casual.
Wrapping up with some Wednesday Words of Wisdom: "Use your Smile to change the World, don't Let the World change your Smile"-unknown

Disclosure–This post contains affiliate links. Purchasing through them will help support this blog.
Photography by Linh Nguyen