Today's post is about a little bit of fashion and a lot of courage. My good friend Linh curates a wonderful Houston based Lifestyle blog called "A Beautiful Rawr" (Real. Amazing. Women. Representing). You may recognize Linh from my photography credit in a few of my previous posts (a very talented woman!). In addition to her blog, Linh started an online shop in honor of her mom who has been battling an aggressive form of Leukemia since 2013. The "A Beautiful Rawr" shop sells t-shirts and jewelry with the saying "Love and Grit." There is a powerful message behind her brand that I encourage you to learn more about by clicking here.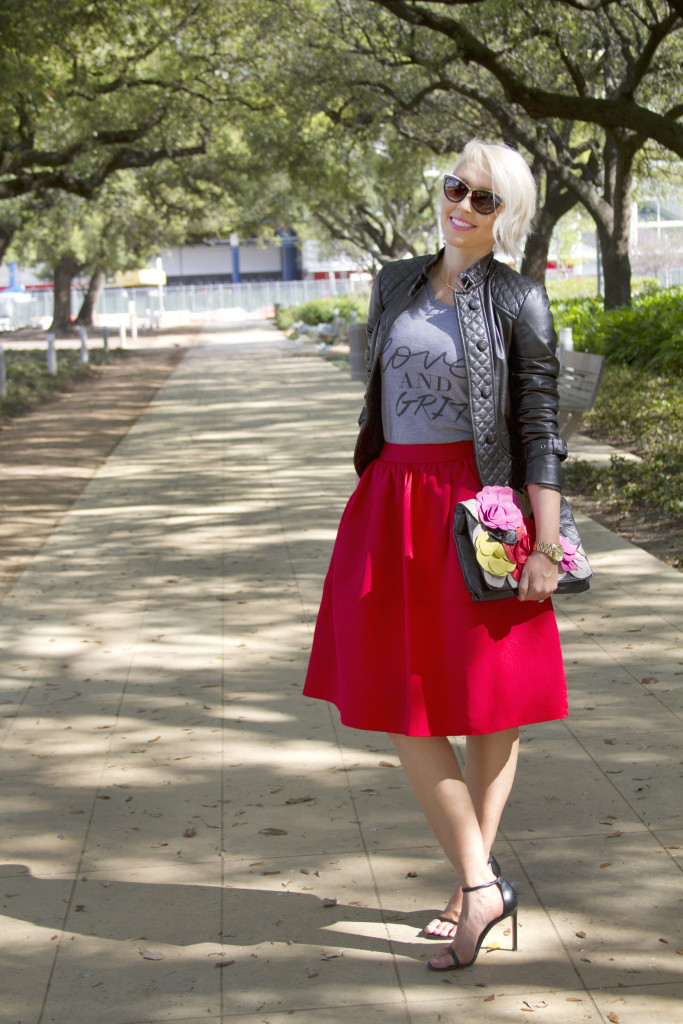 T-shirts are typically very casual but I wanted to show mine paired with a skirt to make it a more "Dressy Casual" look. I love the contrast of this biker jacket with a girlie skirt.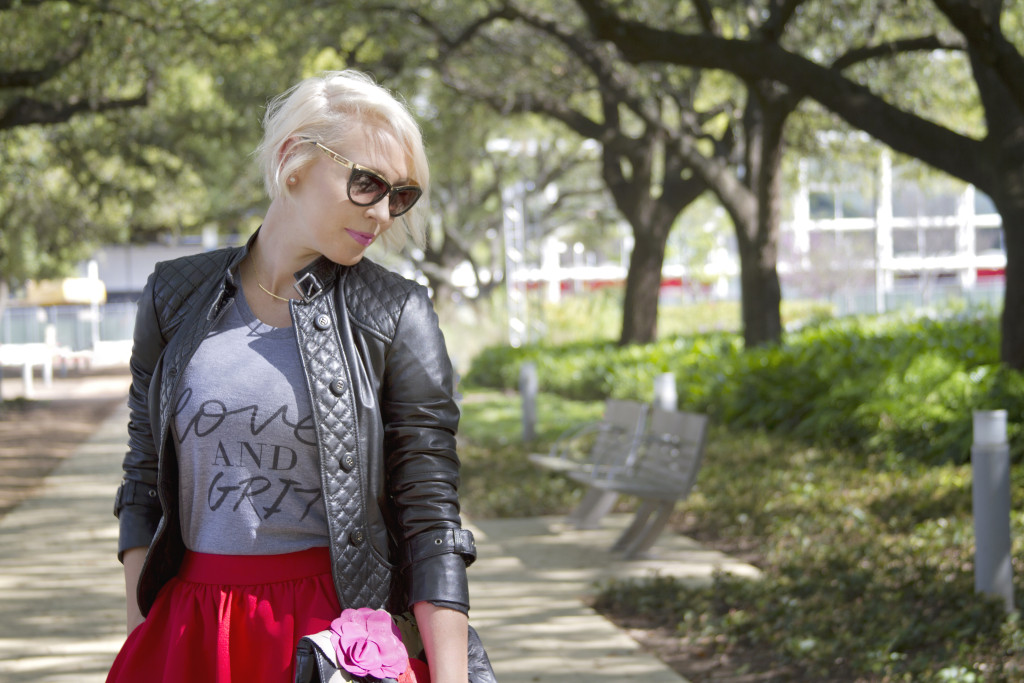 My leather "moto" jacket is Zara from many years ago. I still can't believe how well it has held up. Follow this link to see a great one they have right now. A leather jacket is a key piece in any closet. If you don't have one, I highly recommend you add it to your shopping list. Leather has become so popular that many brands are making really good synthetic leather so you don't necessarily have to break the bank for this type of purchase.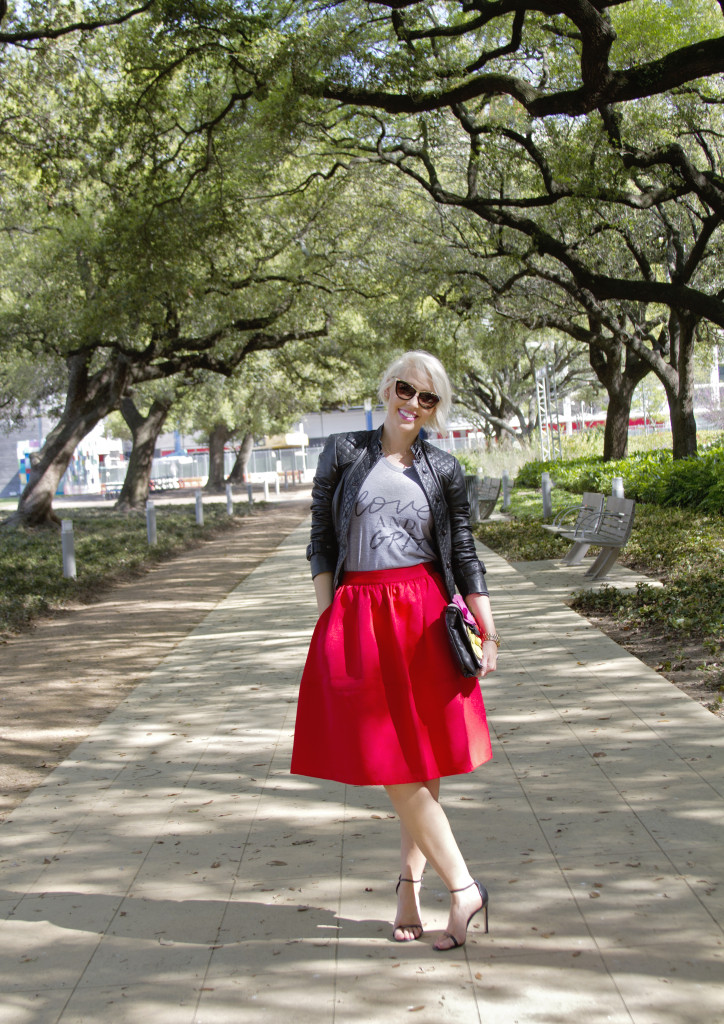 LOVE this fun skirt from Express. I purchased this color in the Fall, but they have the same style available in white right now. I may or may not have also purchased it in white, and you may or may not be seeing a future blog post about it 😉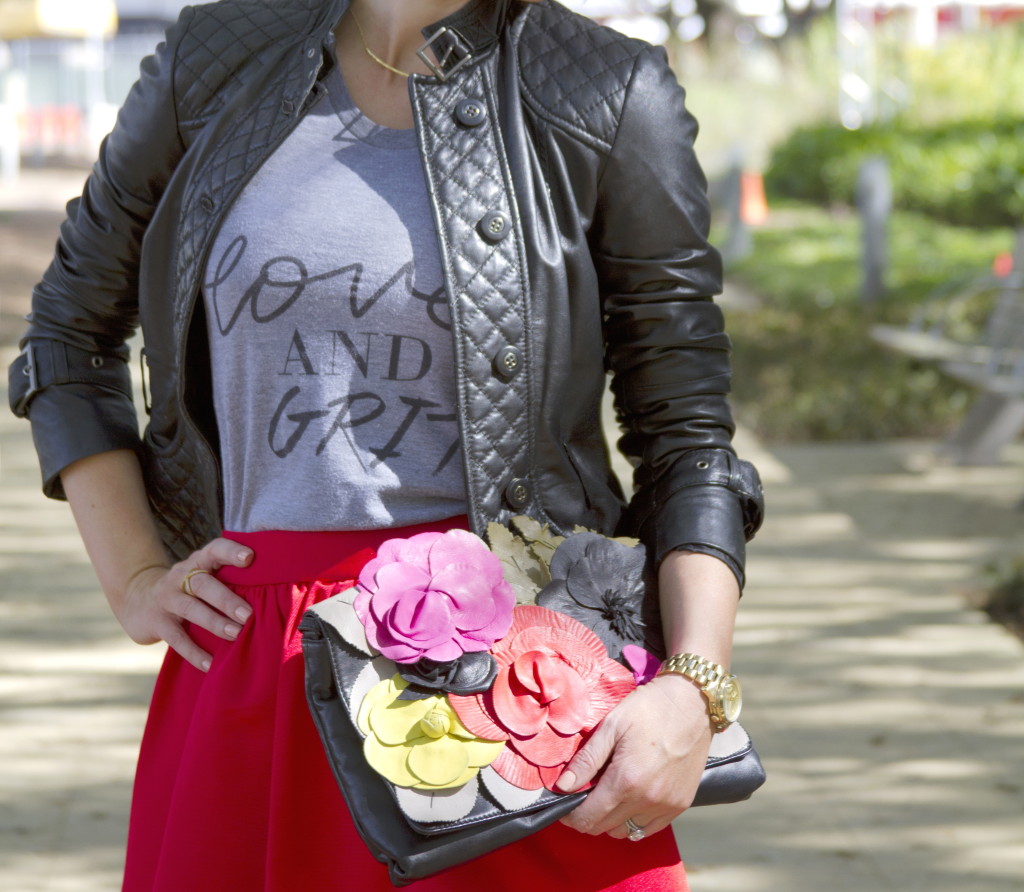 This Valentino bag is one of my all-time favorite finds. I purchased it at my favorite Houston consignment store, Repeat Couture. It is definitely a statement piece, and I feel like it really ties this outfit together. The rest of my accessories are as follows: Shoes-Stuart Weitzman, Sunglasses-Alexander McQueen (on sale now!), Watch-Michael Kors, Necklace-Gorjana, and Ring-Elizabeth and James
XO-Natalie
Photography by Hayley Jackson (www.hayleyjacksonphotography.com)