Hi Everyone!
"Guess who's back, back again"-Eminem
As you may have noticed, I took a pretty long hiatus from the blog, like one year long. I honestly can't believe it's been that long, but life happens and sometimes something's gotta give. I've been keeping busy with my styling career and have been more involved in charity work, but the good news is I'm back and hoping to bring you new content once a week.
This week we're talking about the "Texas Tuxedo." I know, I know, denim on denim is traditionally known as the Canadian tuxedo, but since I'm in Houston, I feel like a Texas tuxedo is more appropriate! Haha.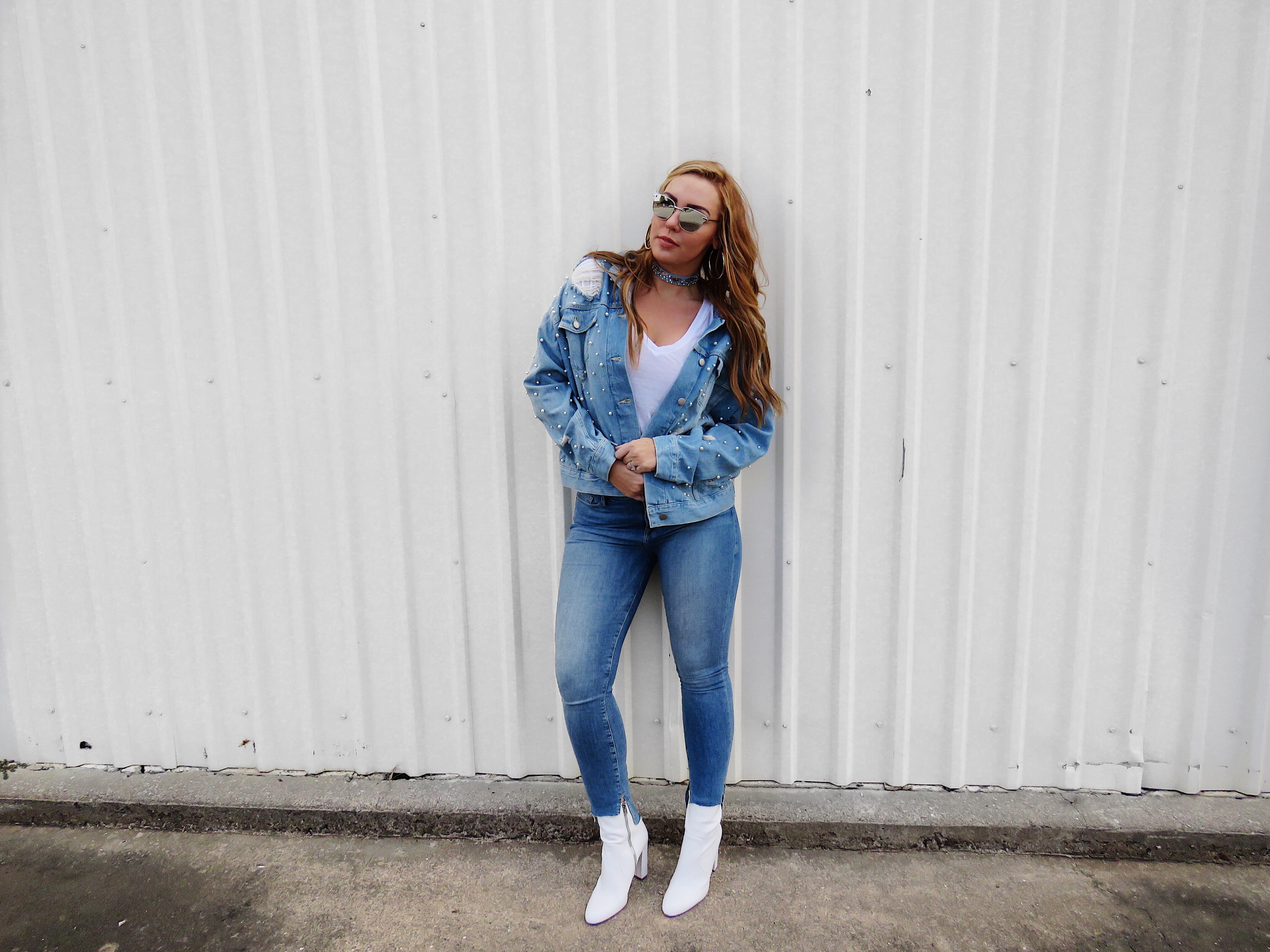 The best thing about the denim on denim trend is that you can wear it year-round. With this particular look, I wanted to keep it dressy casual so I paired it with a white tee and a block heeled bootie.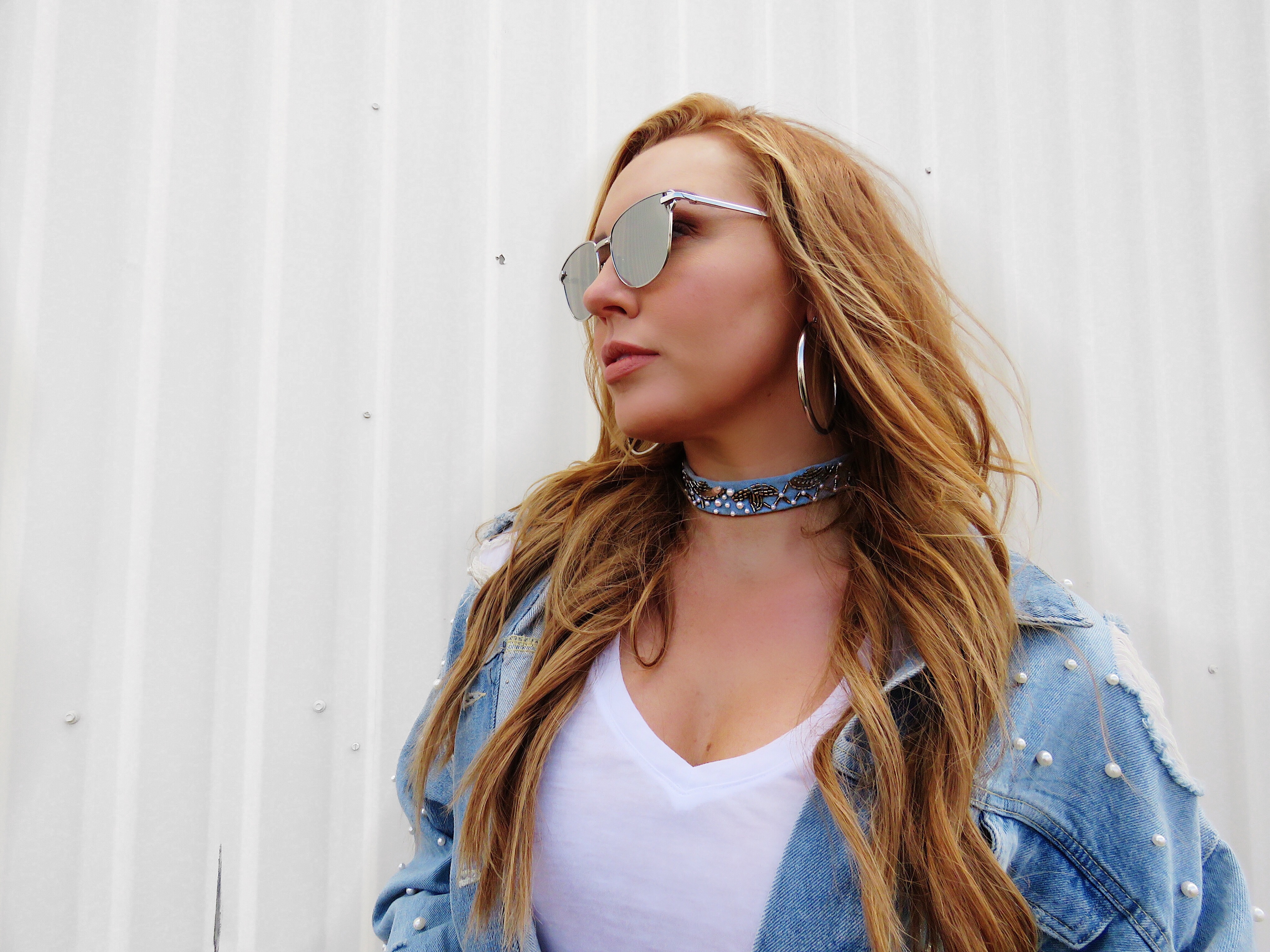 This Mignonne Gavigan choker is the cherry on top for me when it comes to this outfit. I bought it from Intermix over the Summer and it is on MAJOR sale now. 
I fell in love with a very similar denim jacket in September at when I saw it at New York Fashion Week. Unfortunately, it was $$$$ so I was super excited when I found this dupe by Free People. I love that it's oversized so you can wear it just over your shoulders for a little dressier look or as an actual jacket to make it more casual. It's meant to be oversized, but I recommend sizing down for a more accurate fit.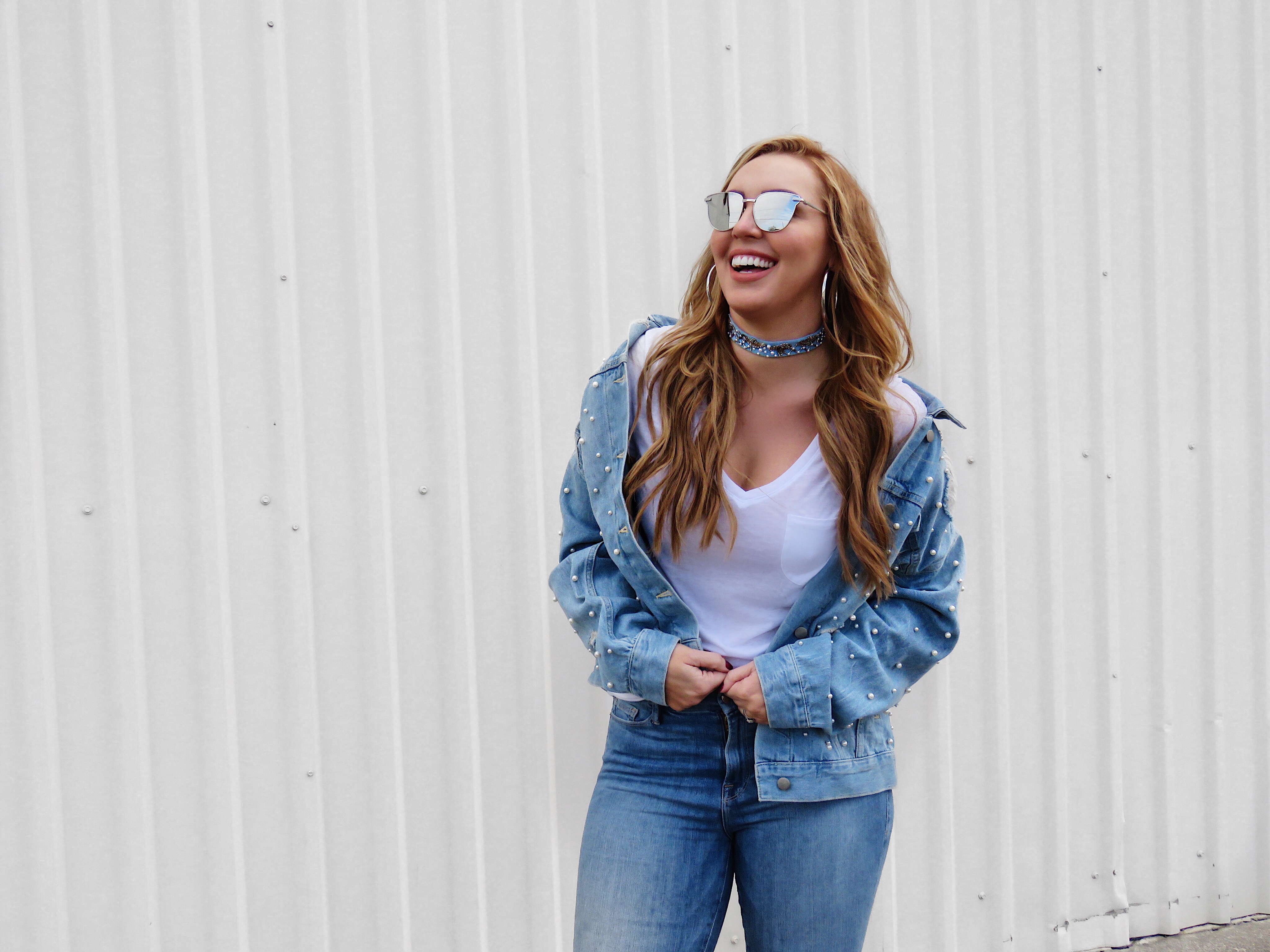 Nothing makes me smile more than a pair of good jeans. They are a staple in my wardrobe so it makes me super happy to find a pair that I love. I have been much leaning toward higher waisted jeans lately which is why I was drawn to these Good American jeans from Nordstrom. The fit is great and I love the raw hemline. This brand of jeans tends to run big so I recommend taking a size down.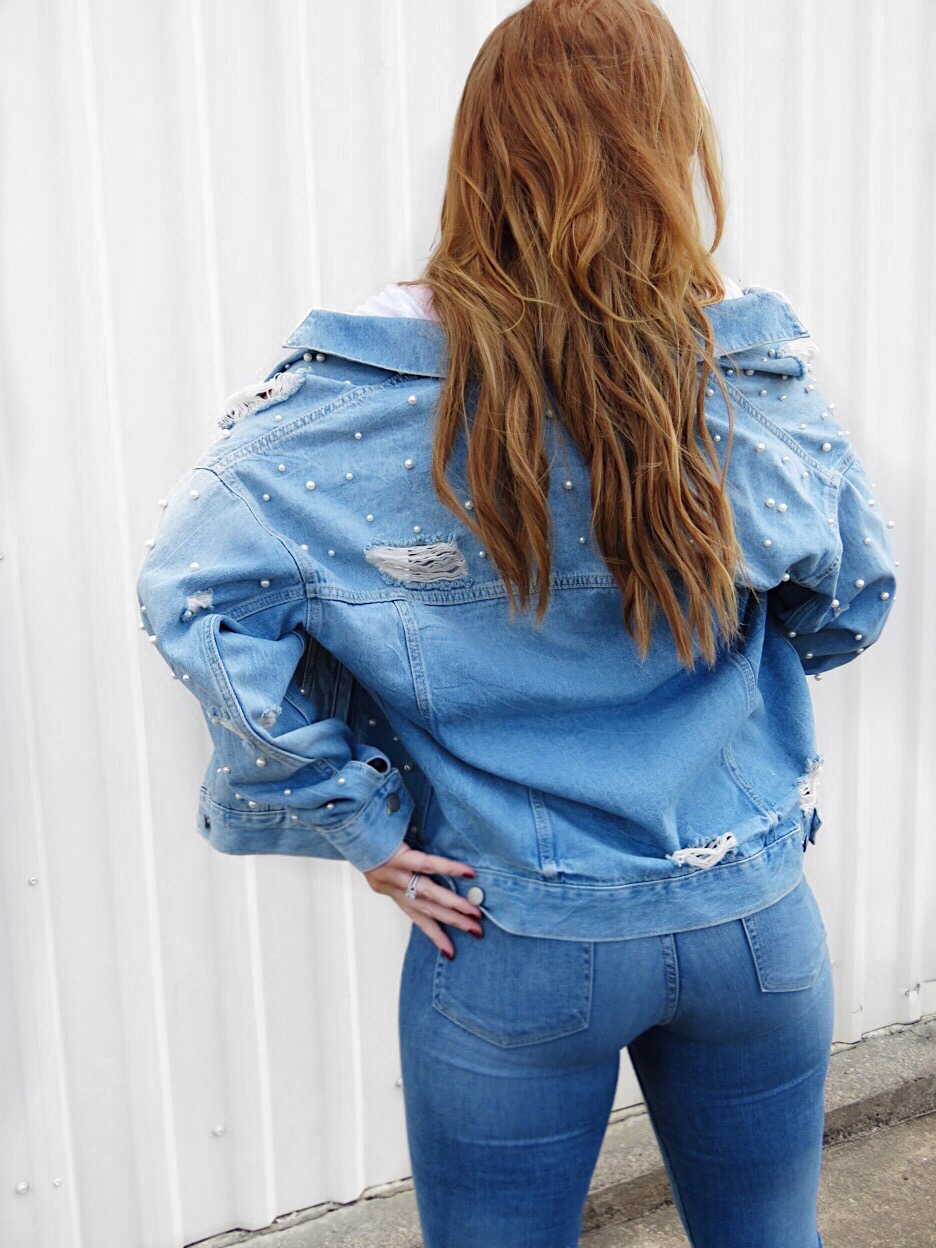 A good white T-shirt is another essential basic. The trouble is finding a good one. I have really loved this T-shirt and basics brand called Z supply. They are super soft and comfortable and reasonably priced which is definitely a win in my book. Pro-Tip: I love a v-neckline because it's universally flattering.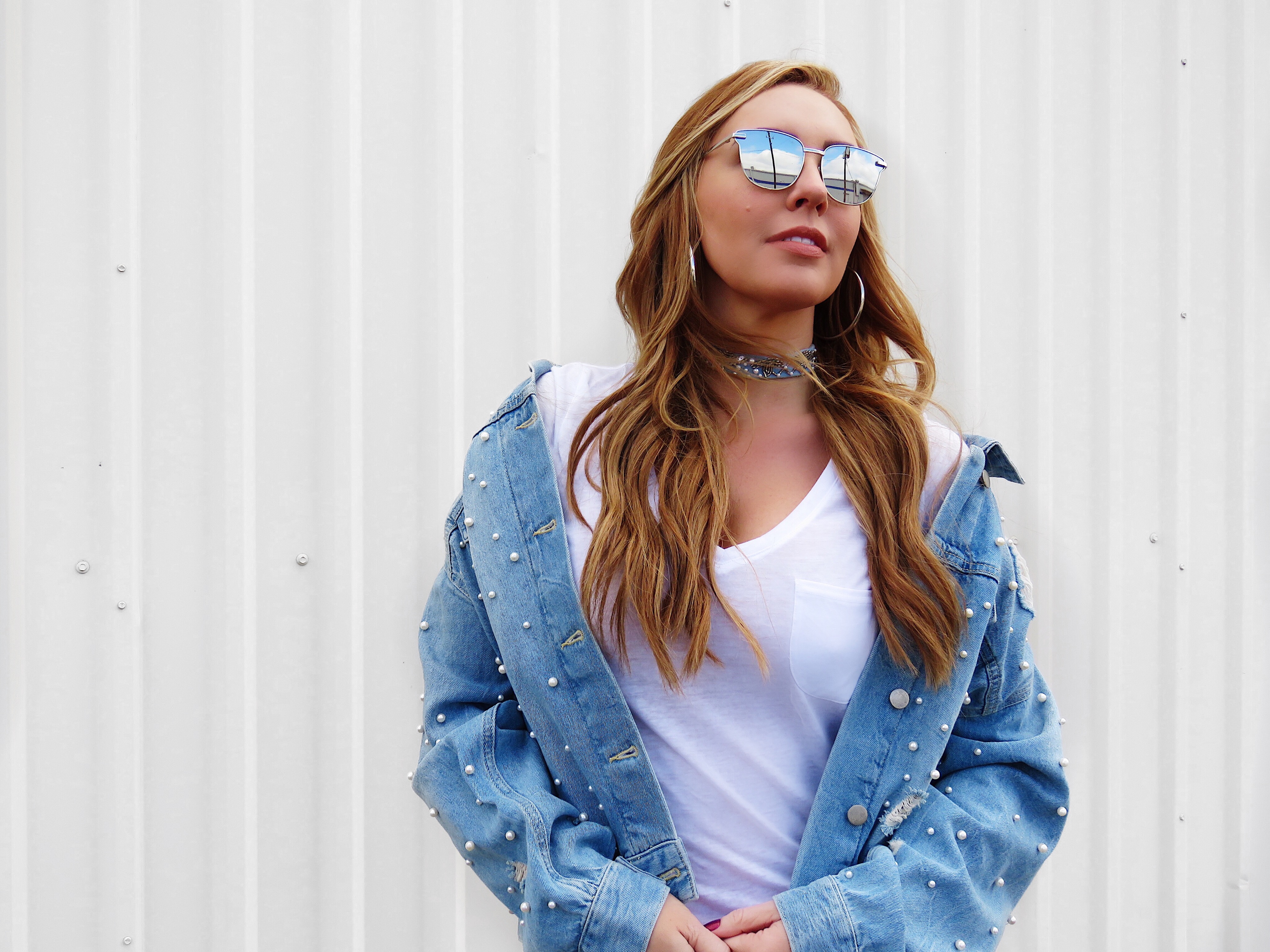 My hubby gives me a hard time because I have A LOT of sunglasses, but as a fashion gal they are an important part of my outfits. My sunglasses serve a practical purpose of course, but they also serve a fashionable one. I found these super chic specs from Intermix and I love their retro vibe.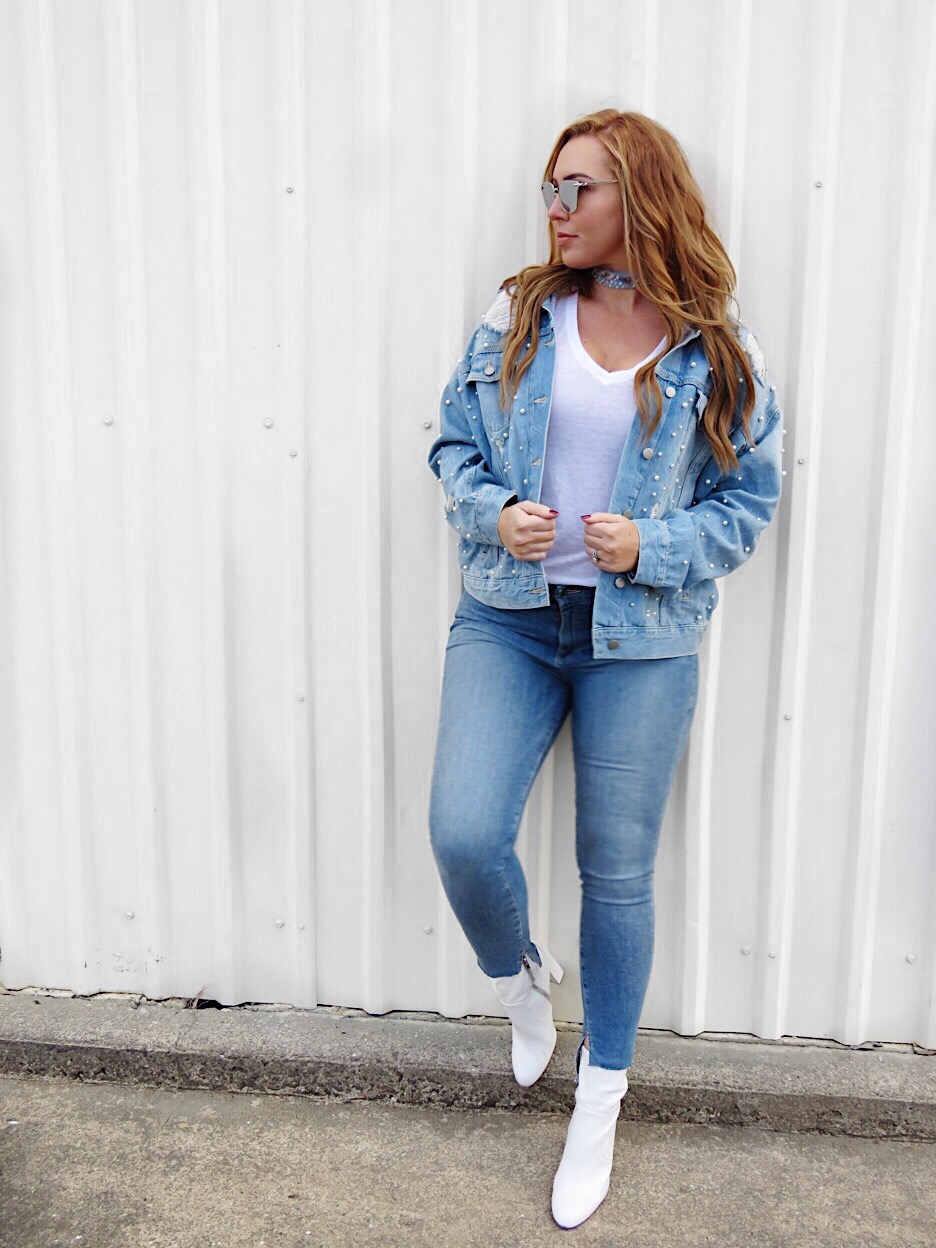 Last but not least are these fancy white boots. Just kidding, they're actually not that fancy but there's something about wearing a white boot that makes you feel that way! I have loved the white boot trend, but I didn't want to spend a lot of money on them in case the trend was already on it's way out next season. I found these super cute and versatile block heeled booties by Steve Madden and knew they were the perfect compromise. Trendy and without breaking the bank.
"Texas isn't just a place on a map….it's an idea in the hearts of our people."-George Bush