Happy Friday! How great is the weather we've had the past few days?! I love today's outfit post because it's the perfect Fall transition outfit. Because, let's face it, while we've been fortunate enough to have a few days of cooler weather, we're not quite ready to break out our Fall sweaters.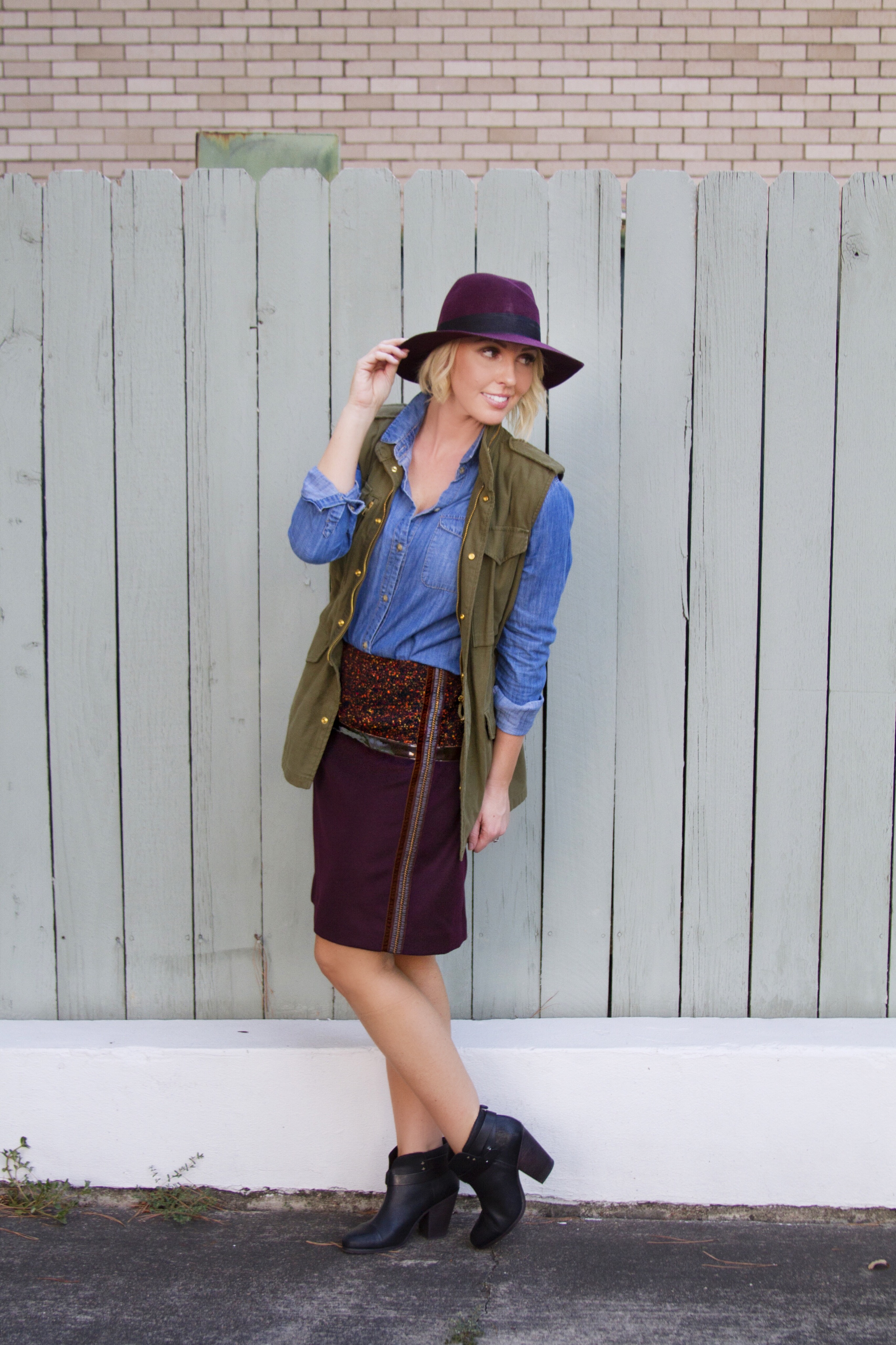 There are three things I love about this Worth New York skirt 1) Tweed, 2) Leather, 3) Color Blocking. I typically pair my tweed skirts with tights and knee boots so I wanted to show an alternate way to wear tweed while we're transitioning seasons. A bare leg and an ankle boot are the perfect pair.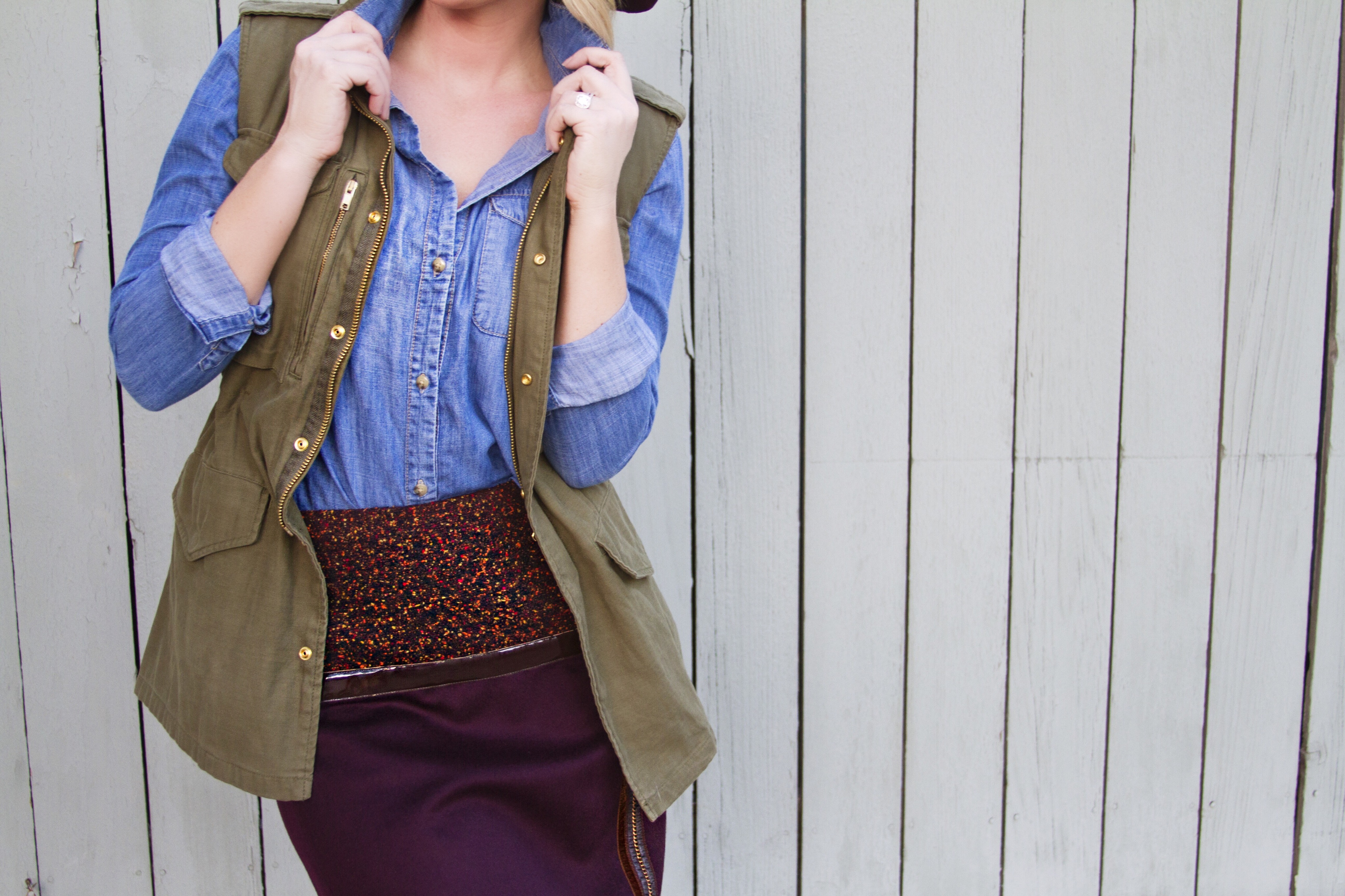 I've said it before, and I'll say it again, a chambray shirt is a wardrobe must. As you can see here, pairing this skirt with a chambray shirt really dresses it down and makes for a more dressy casual look. My chambray shirt is from Urban Outfitters, and I also really like this one by Halogen from Nordstrom.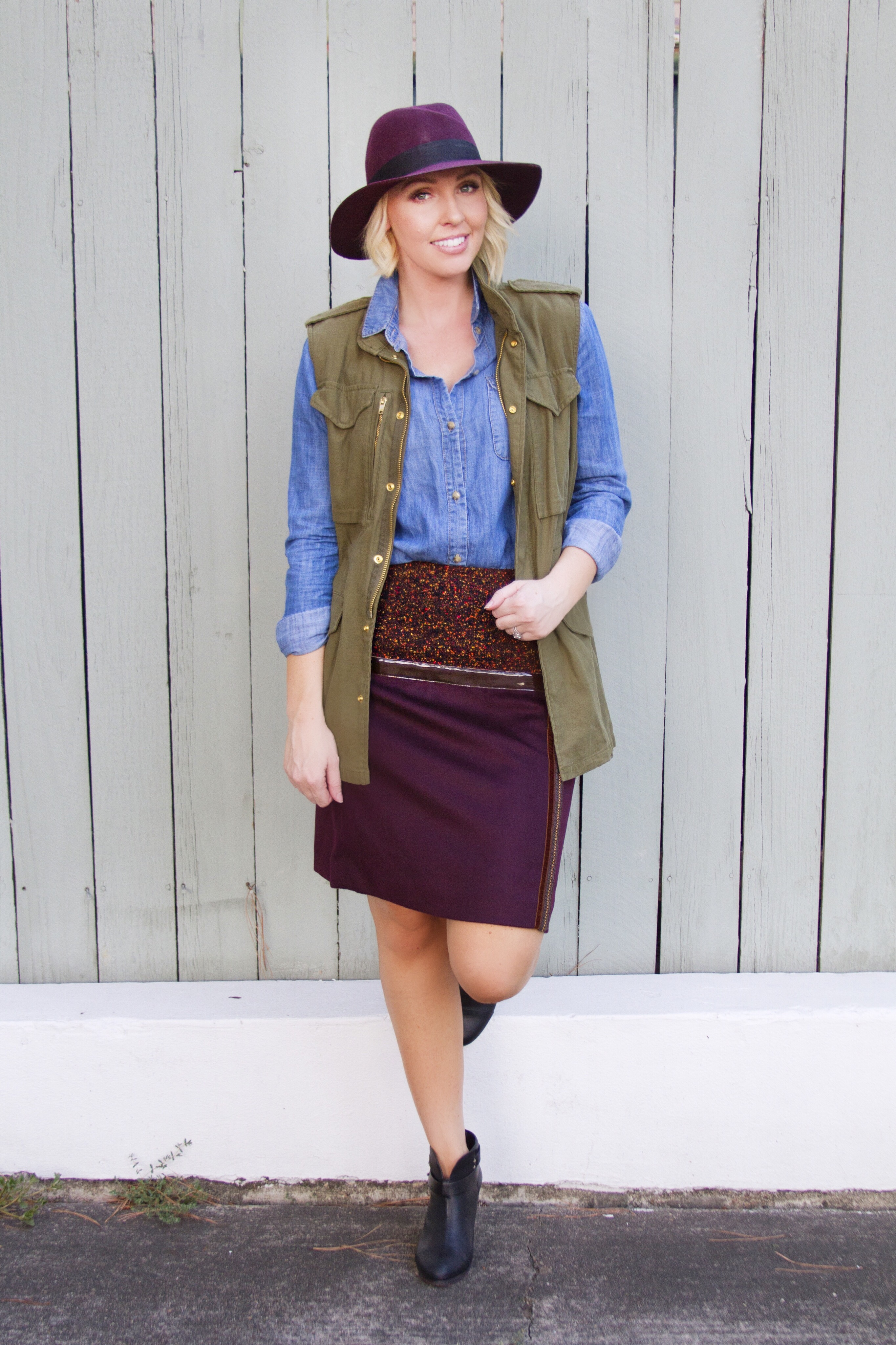 I added the military vest at the last minute because I felt like my outfit was missing something. I love to work with layers and having an army green vest on hand is the easiest way to do that. You can wear this vest with jeans, dresses, skirts, etc. so it is a very versatile piece. The one I'm wearing from Zara is sold out, but this military vest from Nordstrom is lightweight and the drawstrings at the waistline make it very flattering.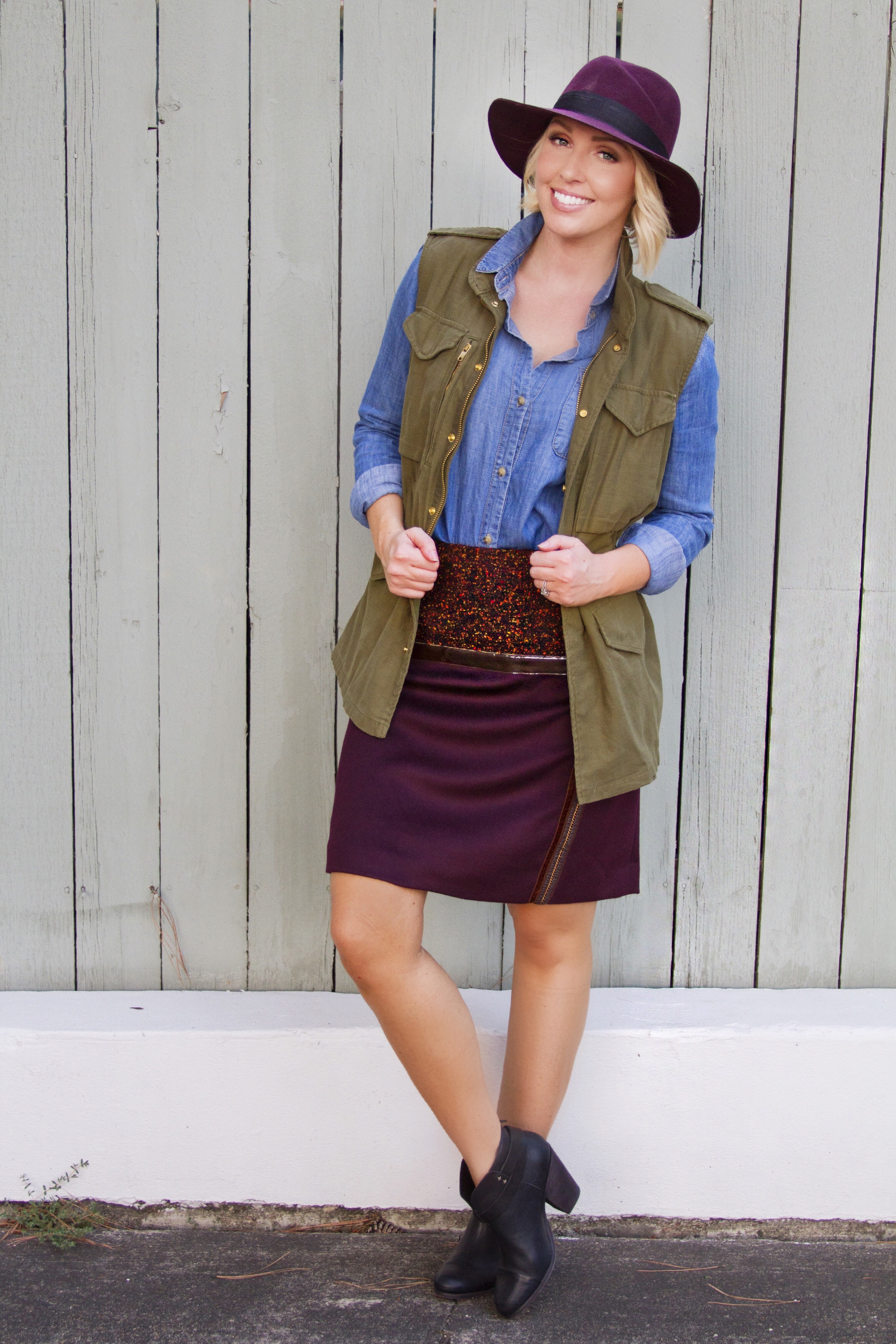 These Rag and Bone ankle boots have been on repeat (you may remember them from last week's Duster's and Denim post). A basic ankle boot is a must. I love that this one has a stacked heel so it's both comfortable and a bit more dressy. You can find more of my Fall ankle boot picks here.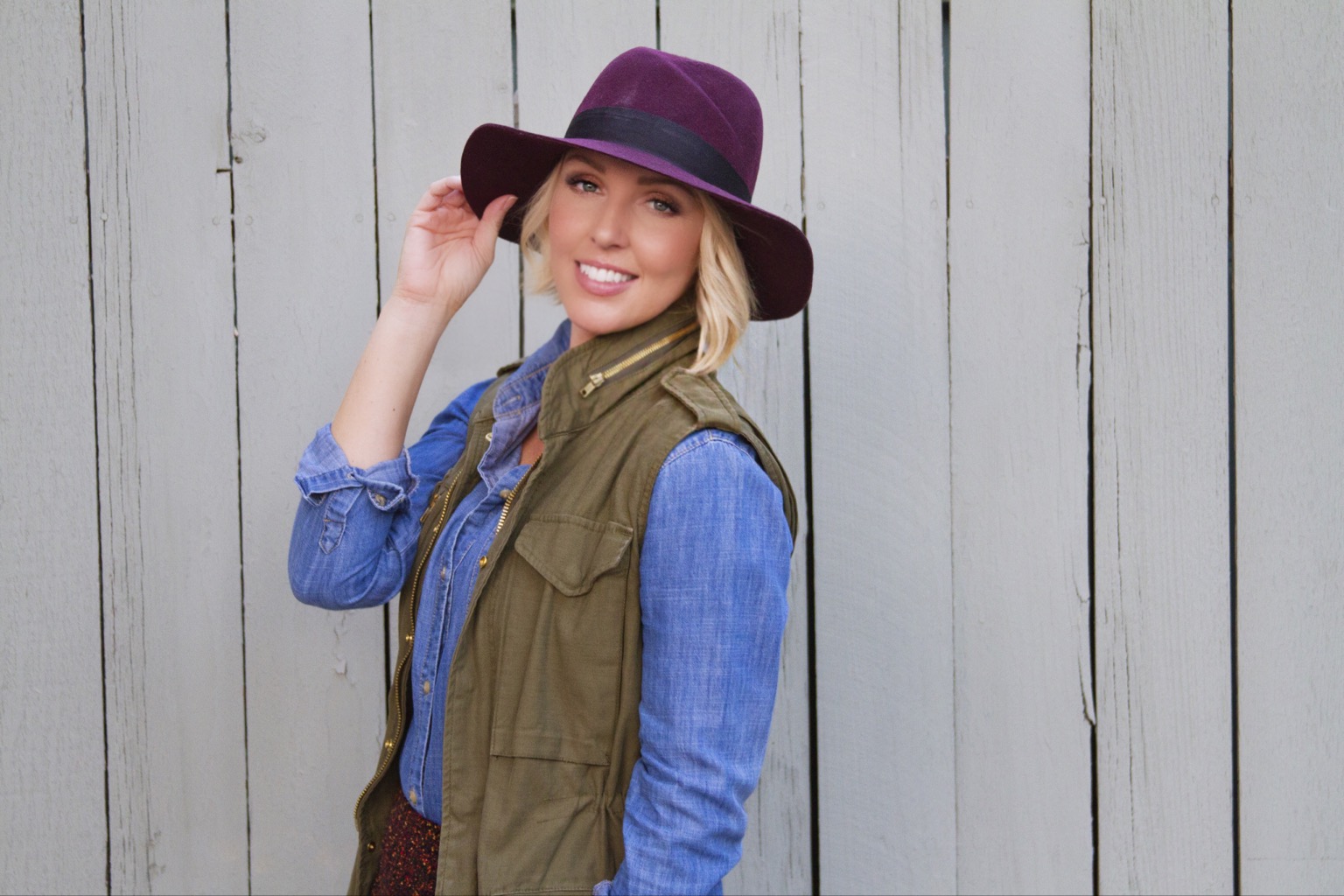 I'm taking another cue from last week's "Duster's and Denim" post with another one of my favorite Fall hats. I purchased this one last year from Annie Allbritton in River Oaks Shopping Center, but I found a similar style by Sole Society. Stay tuned for a post with my favorite Fall hats!

If you are interested in ordering the Worth New York skirt from this post please contact Michelle Fredricks at (713) 254-3733 or mfredricks@worthltd.com.
Disclosure–This post contains affiliate links. Purchasing through them will help support this blog.
Photography by Hayley Jackson